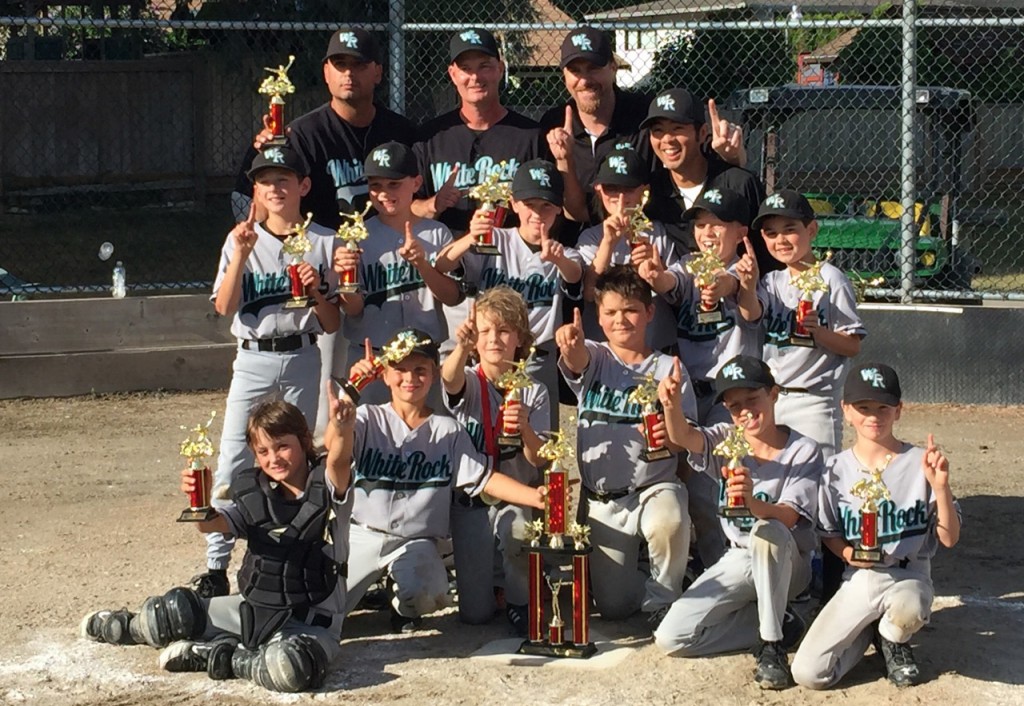 The 2015 White Rock U9 Tadpole All-Stars won the Andrews Invitational championship, going a perfect 15-0 in tournament play this summer. For these kids, this is the first season where they pitch to batters, and hit from other pitchers.
Andrews Invitational Tournament Recap
Game 1 featured great hitting throughout the lineup and some solid defense. Vasya Seymour got things started with a triple in the 1st inning, scoring lead off hitter Matthew Ng, while speedster Max Ross busted out of a slump going 2-for-2. The play of the game was a highlight reel sno-cone catch by Ben Friedel in right field, who then threw out a runner at 2nd for a double play, earning him Game MVP honours. In games 2 and 3, White Rock kept the bats going and ground out a couple sloppy wins, taking both games 22-11 and earning a spot in the semi-final.
In the semi-final game, White Rock allowed 3 runs in the top of the 1st inning, but roared back to score 4 in the bottom, and kept the bats going on their way to a 15-4 win. Ben McKinnon went 2 for 3, with 3 RBI in the game. Sam Persaud had one heck of a 5th inning, tracking a long fly into foul ground at left field in the top half, then picking up 2 RBI with a clutch base hit that ended the game in the bottom half, earning his team a spot in the tournament final.
White Rock prevailed 3-2 over Ladner in a tight final game, which featured the return of great team pitching, and some remarkable team defensive play. Briggham Kokotailo set the tone for the pitchers, striking out the Ladner side in the top of the 1st. Vasya Seymour went 2-for-2, scoring once, and also pitched a scoreless inning. Ben McKinnon struck out one, and walked the bases loaded. Just when it looked like Ladner would get on the board, Ben Pulfer snagged a hard line drive at 2B, then flipped the ball to 1st for a smart double-play to end the threat. Pulfer also pitched a scoreless inning to earn himself Game MVP honours. Zak Burden and Sam Persaud each pitched a solid inning, allowing 1 run each.
The Boys of Summer – I never will forget those nights / I wonder if it was a dream
Personally, the last 5 weeks have been a blur. Many times I wasn't sure if I was supposed to be at work the next morning or at the ball park. The team played a total of 26 games, and practiced on most of the other nights. Some personal highlights of the season for me:
The dedication of all of the families to the team. One of our practices was scheduled for the Monday after a tournament; the coaches decided to call it "optional". Every single player showed up. It turned out to be a 3 hour long batting practice session, with many of the dads shagging fly balls and grounders, trying to show the kids "how it's done".
The willingness of siblings to help. All of the players have siblings, but 3 in particular – Evan Ng, Liz Kokotailo, and Madelyn McKinnon went above and beyond. I half expected to hear Evan wailing about being boredddddd, but instead he took on the role of team scorekeeper and statistician. He might be halfway to a degree in sabermetrics. After Coach Randy was on the injured reserve, Liz and Madelyn helped to keep the practices and pregame warmups going with their live arms.
There is crying in baseball. And it usually occurs when kids don't get on base. The hilarious part of it is that all the kids were really good at getting on base. In those moments when the tears flowed, the kids were so good to each other, picking their teammates up when they were feeling down, and helping each other get back on the field and play their best.
It has been one heck of a season for all of us. As I write this, there is a hole in my heart that is roughly the size of a baseball. I've received emails and texts from the other coaches already, talking about being bored, and of course, watching baseball. Because after coaching baseball for 30 straight days, you take a break from that by watching more ball.
Thanks to everyone involved for all the wonderful memories. Here's to many more hazy summers filled with baseball dreams.