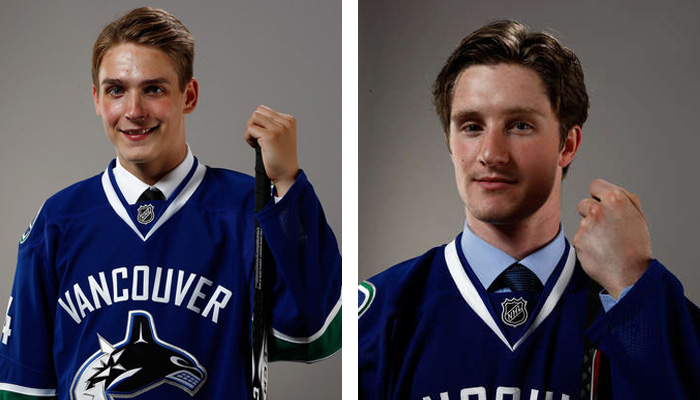 A coworker asked me today if this will be a good year for the Canucks. I didn't have a simple answer for him.
Predicting this year's Canucks is akin to predicting the behavior of children. As a parent, sometimes you're shocked at your kid's actions. Sometimes, you swell with pride. And other times you are moved to tears. But most of the time you're just hanging on for dear life as it is a hundred mile-an-hour whirlwind of all the emotions.
With the infusion of youth on the Canucks roster, we're going to bear witness to some horrible mistakes, and some brilliant displays of hockey. There will be nights where you will be soul searching, questioning your fan status, and there will be nights that make you glad you didn't jump off the bandwagon.
There have been a number of rookies that have come and gone in the Canucks short history. There have been only a few Canucks campaigns that have had memorable rookie seasons, and even fewer that featured more than one or two rookies at a time. This season's version of the team features sniper Jared McCann, speedy defenceman Ben Hutton, and local talent Jake Virtanen, all of whom are entering their first NHL season. Add sophomore Bo Horvat. Young prospect Sven Baertchi. Add recent call-up Brendan Gaunce. Even Luca Sbisa was born in 1990 (yes, younger than Chris Tanev).
| | | | |
| --- | --- | --- | --- |
| Player      | Position    | Birth Date  | Age       |
| Jake Virtanen | RW | August 17, 1996 | 19 |
| Jared McCann | C | May 31, 1996 | 19 |
| Bo Horvat | C | April 5, 1995 | 20 |
| Brendan Gaunce | C | March 25, 1994 | 21 |
| Ben Hutton | D | April 20, 1993 | 22 |
| Sven Baertschi | LW | October 5, 1992 | 23 |
| Luca Sbisa | D | January 30, 1990 | 25 |
| | | | |
All of a sudden that tired old Canucks team is full of young players and a couple actual teenagers, complete with erratic behavior that will give the most die-hard fan a few more grey hairs.
If you can be patient, sometimes that youthful exuberance will surprise you and make you glad you were there to see it. First seasons. First goals. First home ice wins.
First cup? There's a first time for everything.