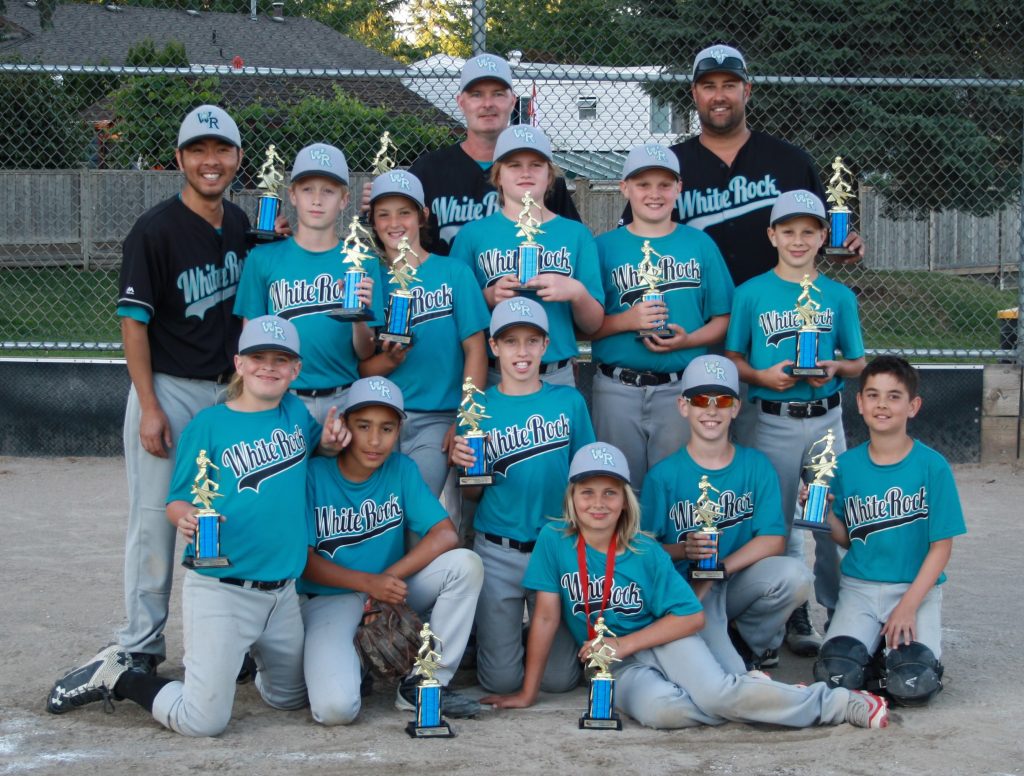 The 2017 White Rock 11U AAA Tier 1 All-Stars won the Boulanger Memorial tournament championship, capping a great weekend of baseball on the Canada Day long weekend.
In the round robin games, White Rock showed that they have a hard hitting lineup, and the rally starts from anywhere in the order. In Game 1 against Richmond, Jack Clayton hammered a 2-run shot, and Ben McKinnon launched 2 homers for 5 RBI. In Game 2 against Chilliwack, Sam Manship and Austin Hexter each had home runs. In Game 3 against Victoria, Austin Hexter hit his second home run of the tournament.
In the semi-final game, 3 White Rock pitchers (Vasya Seymour, Matty Ng, Garin Wickstrom) combined on a 3-hit shutout in a 10-0 win over Ladner. White Rock jumped out to a quick 4-0 lead in the first, which featured a 2-run homer from Max Ross. White Rock then extended the lead to 8-0 in the second inning on the strength of a 2-run homer by Tyson Craven.
White Rock prevailed 4-2 over Cloverdale in a tight final game, which featured some remarkable team defensive play, and timely hitting. Ben McKinnon pitched 4 solid innings as White Rock came back from 1-0 and 2-1 deficits to tie the game twice. In the bottom of the 4th inning, Tyson Craven doubled to drive in a run, and Garin Wickstrom followed that up with an RBI single to give White Rock a 4-2 lead. Vasya Seymour took the mound in the top of the 5th, striking out 1 and walking 3 batters to load the bases. Just when it looked like Cloverdale would rally, White Rock brought the infield in, and turned a gem of a double play going 6-2-3 (McKinnon, Ng, Burden) to put out the fire. Vasya finished the 6th inning by striking out the side to earn the save, and MVP honours.
So far, this team has gone 14-0 in combined tournament and league play. Good luck to all the other White Rock teams in July – here's to a successful run for these boys of summer.