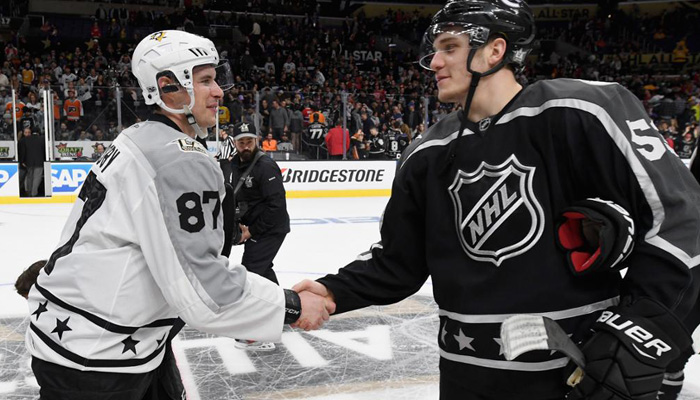 Bo Horvat started this season as the 3rd line centre behind Henrik Sedin and Brandon Sutter. Despite ranking 5th in TOI/GP for forwards this season, and with very little time on the power play, Horvat is leading the team this season in goals and points. He has been a professional through everything this season – good or bad. Horvat  represented the Canucks at the NHL All-Star Game, and he did not look out of place, showing off his speed against Patrik Laine, and scoring 2 goals in the 3-on-3 tournament.
Nikita Tryamkin started this season in the press box. He refused a demotion to Utica, instead choosing to stay in Vancouver. Due to all the injuries on the blue line, Tryamkin finally drew into the lineup on November 3. He hasn't relinquished his spot in the lineup since, ranking 4th on the team in plus/minus, and leads the team in penalty minutes. At 6'7″ and 265 lbs, Tryamkin's size got him to the NHL, but he has shown surprising mobility for a big defenceman.
Everyone loves an underdog, and Richmond's Troy Stecher fits the bill perfectly. Undrafted and undersized for a defenseman, Stecher had a great pre-season, but was sent down to Utica to start the year. Since he got the call to return to the Canucks, he has excited the fanbase with his play. He can rush the puck with his speed and leads all Canucks defensemen in shots on goal and points.
In 2014-15, Luca Sbisa was everyone's favourite scapegoat. In 2015-16, injuries kept him out of the lineup for half of the season. Finally this year, Sbisa is getting a chance to consistently show why the Canucks signed him to an extension through 2017-18. He looks far more comfortable on defense, making solid contact to gain possession of the puck and make a good first pass out of the zone. He has stayed healthy, and leads the team in plus/minus and hits. Solid.
Markus Granlund came to Vancouver via a trade with Calgary for Hunter Shinkaruk. There were a lot of armchair GM's out there that called for Jim Benning's head, but at this point in time, the Canucks are the clear winner of that deal. On Brandon Sutter's left wing, Granlund has provided the Canucks with some much needed secondary scoring, playing in every game and potting 12 goals so far. Shinkaruk on the other hand has spent most of his season in the AHL. He has played 7 games for the Flames and has 1 assist.