In 2009, I received The Gingerbread Architect as a gift. It's a great book, and it comes with recipes and ingredients for 12 different gingerbread masterpieces. Since then I've made a number of gingerbread houses, including 2011's Urban Brownstone, the Canuck Place Children's Hospice in 2012, and the Stewart Farmhouse in 2016.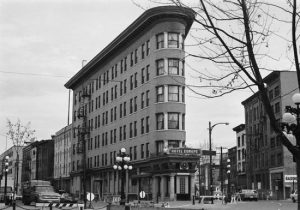 This year, for the third time, I decided to make my own designs for a gingerbread structure. My inspiration came from a real heritage building in Vancouver's famous Gastown area – the Hotel Europe.
Hotel Europe is a six-story heritage building located at Powell and Alexander in Vancouver, British Columbia. The building was commissioned by hotelier Angelo Calori and completed in 1909 by Parr and Fee Architects. The building is designed in the flatiron style.
Thank you to everyone who follows along every year. While there are some late nights in December (and sometimes January!), it's always fun to create something that people enjoy.