A few years ago I received The Gingerbread Architect as a gift. It's a great book, and it comes with recipes and ingredients for 12 different gingerbread masterpieces.
Last year, I opted to make the Urban Brownstone, which is rated as one of the more difficult houses to make in the book. Despite the written difficulty level, I found the baking of the walls to be pretty easy, and the decorating wasn't too difficult. In my blog post summarizing that build, I wrote:
Next year, I am strongly considering making my own house out of gingerbread.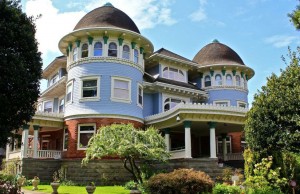 Perhaps I was just a bit too ambitious with my plans this year.
My inspiration: Canuck Place Children's Hospice, also known as Glen Brae Manor, also known as the Tait Mansion.
Canuck Place provides care for children with life-threatening illnesses, and support for those kid's families. The kids that stay here have access to the best palliative care that is available, at a first rate facility – the first of it's kind in North America.
Players from the Vancouver Canucks are often seen at Canuck Place to visit – to put smiles on kid's faces, and perhaps to keep their own lives in perspective.
Usually during a regular NHL season, there are great fundraising efforts for Canuck Place and awareness through those efforts is elevated. During the lockout this year, I thought it might be a fun idea to donate this year's gingerbread house to Canuck Place. And what better building to model than the hospice itself!
The structure is a heritage building within the Shaughnessy neighbourhood in Vancouver, BC. It is a 4-story mansion, built in 1910. It has very distinctive domed turrets, and features curved exterior walls on nearly every side of the house. There is a large covered porch at the front of the mansion, as well as on the east and west sides of the building.
That's it! I have to thank my wife Marnie for being the voice of reason, and for the use of her equipment – it helps to have a cake decorator for a wife when you need to make 10 pounds of gingerbread dough. It also helped immensely to have her creativity and an extra set of steady hands. I'd also like to thank Dianna (@Dianna_Chr) for arranging access to the Canuck Place grounds, and Dawn (@light_and_lit) for some good baking advice.
Hope you enjoyed the post as much as I enjoyed making this house!