In 2009, I received The Gingerbread Architect as a gift. It's a great book, and it comes with recipes and ingredients for 12 different gingerbread masterpieces. Since then I've made a number of gingerbread houses, including 2011's Urban Brownstone, and the Canuck Place Children's Hospice in 2012.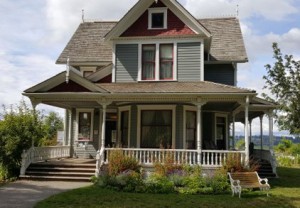 This year, for the second time, I decided to make my own designs for a house. My inspiration came from a real heritage building, right here in Surrey.
The Farmhouse at Stewart Farm was built in 1894 by John and Annie Stewart. The house has that Victorian style and features a veranda and bay windows at the front and side of the house. It is a picturesque site, and one of the most photographed landmarks in Surrey because of it's romantic old world charm.
Thank you to everyone who follows along every year. While there are some late nights in December, it's always fun to create something that people enjoy!