In 2009, I received The Gingerbread Architect as a gift. It's a great book, and it comes with recipes and ingredients for 12 different gingerbread masterpieces. Since then I've made a number of gingerbread houses, including 2011's Urban Brownstone, the Canuck Place Children's Hospice in 2012, the Stewart Farmhouse in 2016, the Hotel Europe in 2017, and the Vancouver Art Gallery in 2018.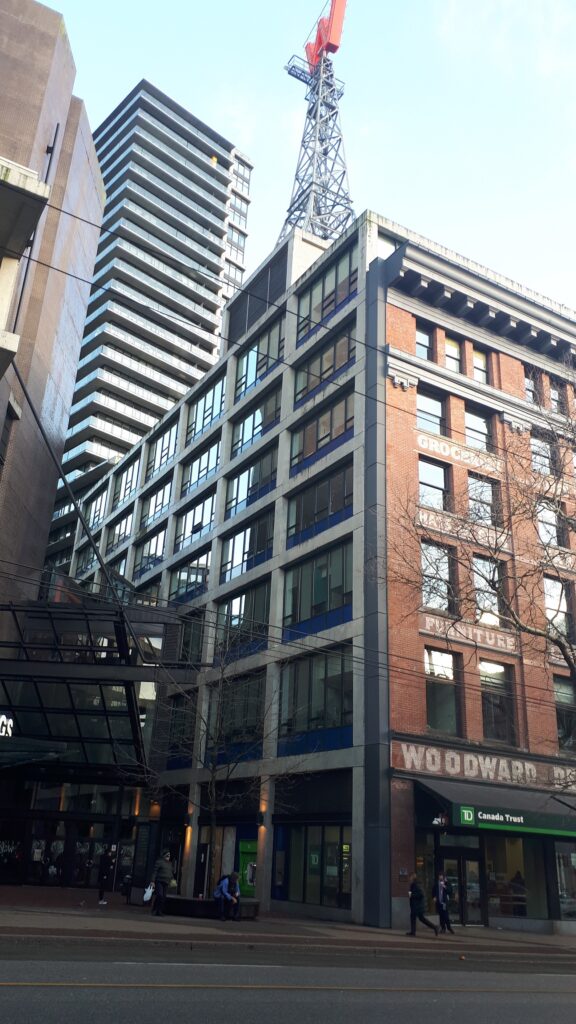 This year, for the fifth time, I decided to make my own designs for a gingerbread structure. My inspiration is the Woodward's Building, which brings fond Christmas memories for many people.
At one time this was the premiere shopping destination in Vancouver. The store was famous for its Christmas window displays, and the rotating "W" at the top of the building.
The original building was completed in 1903, and was one of the pioneers of one-stop shopping. In the 1960's, Woodward's decline began as people began shopping in suburban shopping malls. In 1993, Woodward's went bankrupt. The closing of this store accelerated the decline of Vancouver's Downtown East Side. Finally, in 2010, construction of a new mixed-use complex was completed. The brick facade is all that remains of the original building at the corner of Abbott and West Hastings.
I remember walks with our family around the holiday season, peering in the windows of all the Christmas displays. Still a wonderful time in our memories.
A huge thank you to everyone who follows along every year. Hopefully there are others that also have childhood memories of this historic landmark.