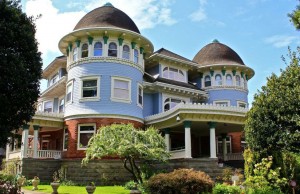 Late in December, I began planning my 4th annual gingerbread house. The first few years I baked and decorated recipes found within The Gingerbread Architect, a great how-to book that contains complete plans, directions and blueprints on how to construct some amazing gingerbread creations. I stuck with houses from the book.
Until this year.
My process for building Canuck Place out of gingerbread is documented in my blog post from earlier this month. One week into January, I delivered the gingerbread house to Canuck Place Children's Hospice.
In case you've been living under a rock for 3 months, the NHL locked out it's players in yet another work stoppage. Although inconvenient and annoying for hockey fans, the casual fan really wasn't affected all that much. In many cities, there are numerous charitable causes that are directly and indirectly funded by their NHL teams. Some of these in Vancouver are the Canucks Autism Network, the Canucks For Kids Fund, and Canuck Place Children's Hospice. Not only do 50/50 proceeds go towards these not-for-profits, but there are all forms of fundraising efforts and awareness events throughout the hockey season.
All I wanted to do was make a gift for Canuck Place that would bring some smiles to the kids and families staying there, and the staff that work there. After delivering the gingerbread house, I was fortunate enough to take a tour of Canuck Place.
Canuck Place opened in 1995 as the first free-standing children's hospice in North America. The staff here provide pediatric palliative care to the kids in British Columbia.
Pediatric palliative care – if you read it quickly it sounds like just another medical term, but what it really means is this: these kids won't make it to adulthood. They have the greatest medical need, and often are in the most pain, every day of their lives.
The Canuck Place program is unique in that it offers world-class health care within a home-like environment.
Most of the top floor is dedicated to space for families to stay, together. The view of the gardens from the turret windows is beautiful. Another floor functions as a hospital ward, complete with a full complement of medical staff. On the main floor is the kitchen and eating area. Like any home, this is the nerve centre of the house. Everyone comes to the kitchen to sit and eat together. There are staff members there to make meals for the house. The main floor also has the volunteer office, which oversees the coordination of hundreds of volunteers. The rest of the house is an eclectic mix of spaces to create and display artwork, make music, make a mess or make notes.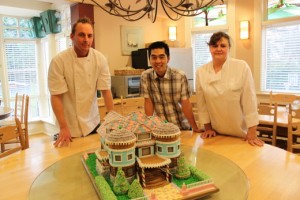 Thank you to Christina Low (@canuckplace) for helping with the delivery arrangements and the tour of the amazing facility.
We all have stresses and difficult times in our lives. We all get caught up in the drama of just living from day to day. I couldn't help but try to think about how these kids make it through their days. It certainly puts my own "tough days" into perspective.