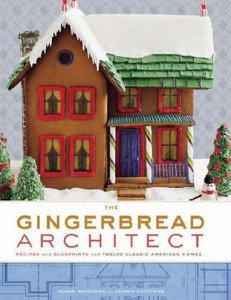 A few years ago I received this as a gift. The Gingerbread Architect is a great book, and it comes with recipes and ingredients for 12 different gingerbread masterpieces.
It's a good coffee table book, as it has plenty of photographs of the houses, blueprint plans for each house, and excellent step-by-step instruction. The only downside is that some of the candies are not that easy to come by in Canada, as the book was written and published in the States.
Unlike my wife, who is an excellent baker and makes amazing cakes, I have very little baking and decorating experience, so some of the plans are intimidating. In 2009, I worked up enough courage to give one of these houses a try.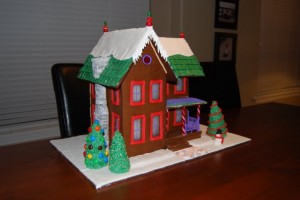 I opted for the "Victorian Farmhouse" which is also featured on the cover of the book. Making the gingerbread dough and baking the pieces was quite easy, while the decorating (piping the icing, rolling fondant, cutting shingles and bricks) was quite time consuming. I had to do everything after dinner and after the kids were put to bed for the evening as well, as there isn't a lot of time to spare around our house. The entire work is definitely a labour of love, as it took me a few weeks to get it all done. I was happy with the result though!
Last year I attempted the "Second Empire House". I took more time to take pictures along the way, and documented some of the steps in the pictures below.
| | |
| --- | --- |
| | |
| Putting up walls with large mugs. Icing and pins to hold things together. | Walls and roof and front entrance put together. With live tweeting of course! |
| | |
This year, I'm planning on making an Urban Brownstone – if you've been in large cities like New York, it will look familiar to you: tall building, front stoop offset from center. In fact, if you've seen Sesame Street, it might look familiar to you. I probably won't add Oscar the Grouch out front!