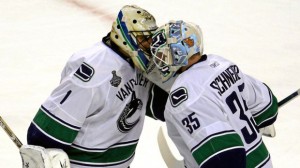 Tonight Cory Schneider makes his sixth consecutive start in the pipes for the Vancouver Canucks, despite Roberto Luongo being pronounced healthy for the last few games.
Is there a goalie controversy here? The Canucks coaches and management would have us believe that there is no controversy, but as Canucks fans tend to do, we make our own drama and decide what is controversial or not.
Here are a few thoughts on Canucks goaltending and where this is all going.
There is a goalie controversy.
Despite what the coaches and goaltenders themselves will tell you, this is a controversy. Luongo should be the number one goaltender, and should have started as soon as he was healthy. This is what starting goalies are supposed to do. All the coaches and goalies talk about being supportive of each other is just covering up what's really going on. Schneider is staking a claim to Luongo's spot in the crease.
There is no goalie controversy.
How can you not continue to play a guy that had two shutouts in a row? He's winning games – the Canucks maybe shouldn't have beaten Ottawa, if not for Schneider that night. So let him keep playing. Coach Vigneault is just rolling with the hot hand, which happens to be Schneider. Once Schneider loses, Luongo will likely resume his work as number one and regain his spot in the crease. Schneider will then go back to being the NHL's best backup, to one of the NHL's best starting goalies.
Luongo's Upper Body Injury is more serious than originally thought.
Is it possible that Luongo is sitting because he's not 100%? Maybe. In Luongo's last start (a 4-1 win versus the New York Islanders), he took a shot off the helmet. Schneider started stretching in the tunnel, but Luongo managed to finish the game. Luongo hasn't seen action since. He didn't dress for a couple games, and has been practicing, but sitting as backup since.
The Canucks are showcasing Schneider for trade bait.
Schneider has been playing very well since a 5-1 loss to Chicago. The whole team has been playing better, but there's no such thing as an easy shutout anymore, and Schneider posted two in a row. First he shut out the Avalanche. Two days later, he shut out the Coyotes. The very next night, he stopped 43-of-45 shots on the second half of a back to back, willing the Canucks to a win in San Jose. There are a number of teams in the NHL that could use a starting goalie of Schneider's calibre (two of which Schneider shut out on the last road trip). No better way to increase trade value of a young goaltender than to play him more.
Is any of this real?
@transcendwebs: My opinion that #Canucks ride the hot hand (Schneider) til he loses. Also my opinion that Luongo is still the man. #LonelyTweet
I believe the Canucks will do whatever it takes to win. Right now Schneider is winning, Coach Vigneault doesn't want to mess with a winning formula, so Schneider keeps playing. Call it a goaltending controversy or not, tandem or not, it doesn't matter.
This isn't the controversy you're looking for, so long as the Canucks keep winning.