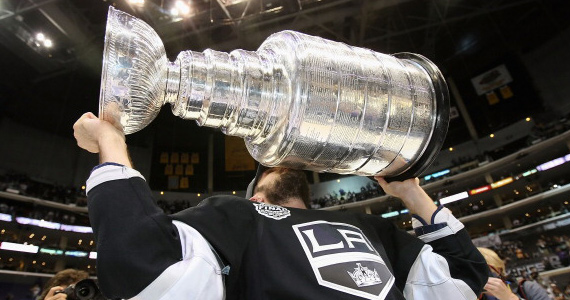 Much has been said with respect to the so-called "President's Trophy Curse". I've been told and it has been tweeted that it's bad luck to win the President's Trophy, and people love to cheer for the Cinderella underdog teams. Add hockey superstition to the mix, and well, no player touches any trophy except the Stanley Cup, if they're lucky enough to win it.
If you actually believe that the President's Trophy is bad luck, first of all, you're a dummy. Secondly, here are some statistics that may surprise you.
The current Conference Seeding style of playoffs has been in place for 18 seasons, since the 1993-94 season. In that time, the President's Trophy winner has been in the Stanley Cup Final 7 times: 1994 Rangers, 1995 Wings, 1999 Stars, 2001 Avalanche, 2002 Wings, 2008 Wings, 2011 Canucks. The President's Trophy winner has gone on to win the cup 5 out of those 7 times. The 2004 Lightning were a non-President's 1 seed that also won the cup.
Division winners seeded 3rd or better have been in the final 22 times, winning 14 cups. Breaking it down:
1st seed has been in the final 9 times, winning 6 cups
2nd seed has been in the final 10 times, winning 6 cups
3rd seed has been in the final 3 times, winning 2 cups
Middle seeds 4th or 5th seeds have made the final 6 times, winning 3 cups.
Cinderellas seeded 6th or worse have made the final 7 times. Out of those, only the 8th seed LA Kings have won the cup in their amazing run in 2012, defeating the 1st seeded Canucks, 2nd seeded Blues and 3rd seeded Coyotes consecutively on their way to the cup final.
Year by year, here are the Stanley Cup final matches:
2012: (8) LAK over (6) NJD
2011: (3) BOS over (1) VAN
2010: (2) CHI over (7) PHI
2009: (4) PIT over (2) DET
2008: (1) DET over (2) PIT
2007: (2) ANA over (4) OTT
2006: (2) CAR over (8) EDM
2004: (1) TBL over (6) CGY
2003: (2) NJD over (7) ANA
2002: (1) DET over (3) CAR
2001: (1) COL over (1) NJD
2000: (4) NJD over (2) DAL
1999: (1) DAL over (7) BUF
1998: (2) DET over (4) WAS
1997: (3) DET over (2) PHI
1996: (2) COL over (4) FLA
1995: (5) NJD over (1) DET
1994: (1) NYR over (7) VAN
What does this all mean? It's pretty clear that home ice advantage is exactly that – an advantage. If your team is one of the top two seeds, it's looking good. But before you plan the parade, you've still got to play all the games. Every season has twists and turns, and with the parity of the teams in the last few years, you never know.