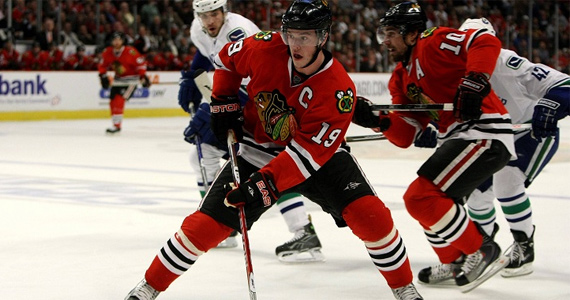 The NHL is coming up on the half-way mark of the lockout shortened season. Most teams have played over 20 games so far. One team has yet to lose in regulation time.
The Chicago Blackhawks as of this posting have a sparkling record of 19-0-3. It's so good it's gaudy. They say you have to be good to be lucky, and yes the Blackhawks have been lucky in some of their games. But for the most part, they have dominated the opposition with offensive speed, good defensive play, and rock solid goaltending.
On February 19th, the Canucks were in Chicago looking to deny the Hawks their season-starting record, but it was not meant to be. In fact the Canucks played about 30 minutes of that game and were lucky to escape the United Center with 1 point after a shootout loss. For the majority of that game the Canucks were badly outplayed. It was embarrassing to watch as the Hawks speed generated numerous Grade-A scoring chances. Odd-man rushes, and Canucks defensemen getting walked around the outside, it looked like the Canucks were out for a family skate. For a Canucks squad that prides itself on team speed, they were given a lesson that night.
Which reminds me of a time…
When I was much younger, Wayne Gretzky played for the Edmonton Oilers. Everyone knows that Gretzky is perhaps the greatest player to have ever played the game. He was revolutionary. Yes, it was a different era of small goalie pads and free-wheeling hockey, but there's no denying Gretzky's place in hockey history. He was the key to the Oilers dynasty of the 80s. That Oilers team was full of future Hall-of-Famers: Gretzky, Jari Kurri, Mark Messier, Paul Coffey, Grant Fuhr to name a few. Even their so-called role players were good: Ken Linseman, Esa Tikkanen, Glenn Anderson, Charlie Huddy, Kevin Lowe and so on.
I hated the Oilers. 
In those Smythe Division days, teams played divisional rivals 8 times each season. That meant that the Oilers got to pound on the Canucks 8 times every year. Even with that many amazing players on their team, I could hardly stand to watch the Oilers when they were in town. Only later did I understand and appreciate how good those Oilers teams were. The records (both team and individual) speak for themselves. Some of those records I consider to be untouchable (eg: Gretzky's 215 points in a single season, and 92 goals in a single season).
The Blackhawks are not the 80's Oilers, but…
This is one hell of a run that the Blackhawks are on. I found myself listening to WGN radio on a Canucks off night just to see if the Hawks would pull off another win (and they did). The Hawks run right now reminds me of Ken Jennings – the Jeopardy! champion who won 74 straight games. The guy was in a rhythm, and seemingly unbeatable. I don't watch a lot of Jeopardy! , but I watched Ken Jennings. His play transcended regular television watching.
It's the same with this season's Blackhawks team. Whether you like them or not, they're making NHL history. You'll look back later in life and say you were around when the Hawks set that record. While they're on this run, don't forget to watch – you'll miss something incredible.