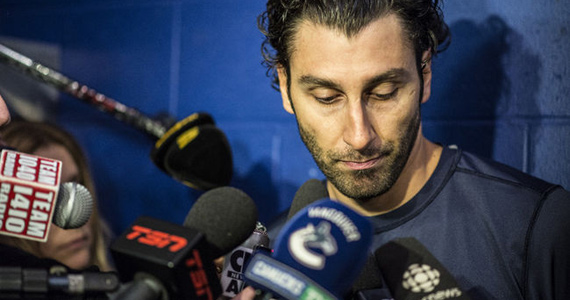 2012 Playoffs, one year ago: Roberto Luongo sits on the bench in favour of Cory Schneider. It wasn't enough to save the Canucks from a 1st round exit from the playoffs. Since then, the Luongo trade talk has been ever present.
It's easy to be an armchair GM. The view is good even from the cheap seats at Rogers Arena – there's not a bad seat in the house. We're not paid big dollars like these guys are to manage a team's direction. But make no mistake, and Canucks General Manager Mike Gillis knows this better than anyone, the fans ultimately sign the paychecks with our dollars – tickets, jerseys, posters, pencils, it's all hockey related revenue. We do all of this for the love of the team, and the love of the game. So with that in mind:
If You Want To Work Here, Close.
The line comes from the movie Glengarry Glenn Ross. In the scene, Alec Baldwin is the boss barking at his lazy team of real estate agents. "Only one thing counts in this life – get them to sign on the line which is dotted."
Gillis was unable to deal Roberto Luongo at the deadline, despite having the better part of a year to make it happen. After all the rumours and rhetoric, the trade deadline came and went and nothing happened. Besides Derek Roy, Gillis was also unable to land any other player. Not many players moved, but among those that did: Ryane Clowe, Marion Gaborik, Martin Erat, Raffi Torres and Jason Pominville. And despite the "weak" market, numerous goaltenders were moved at the deadline: Ben Bishop, Matt Hackett, Steve Mason, and Michael Leighton were all traded.
At the deadline last year, Gillis traded away Cody Hodgson for Zack Kassian. It was said that Hodgson's issues cost the management team time and effort to deal with. Looking at the team now, they've had troubles at center all season long, and Kassian is now in the minors. Hodgson has flourished in Buffalo and is scoring at a point per game clip. And where is Gillis spending his time? Trying to find a center.
This year, Gillis was able to trade for Roy by sending Kevin Connauton to Dallas, along with a 2nd round pick in the 2013 entry draft. This trade was alright – I like the deal because Roy can help the team here and now. Connauton is a prospect at least 1 or 2 years away from playing meaningful minutes. But make no mistake – this was a deal to fill a hole at center, which Gillis created by trading away Hodgson.
Gillis, if you want to work here, close. Close the deal, get players to sign on the dotted line. Players were moved – forwards, centers, and goaltenders. The opportunities were there. Get it done!
What deals do you think Gillis should have made? What could we have received in return for Luongo? Let us know in the comments!