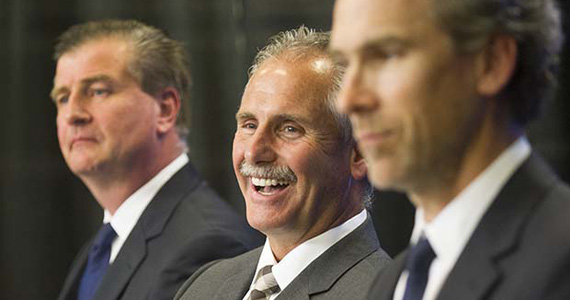 The good news is the NHL playoffs were fantastic. The bad news is the Canucks didn't make the show and if they did, they would have been eliminated in 3 games. The gap between the Canucks and the teams in the playoffs is wider. The pace of the game in the playoffs was incredible, and the style of play in each and every series was hard hitting.
When the Canucks ownership fired Mike Gillis and hired Trevor Linden as President of Hockey Operations, it seemed like the ultimate Public Relations and Marketing move. The extension of the season ticket sales period, the fact that Linden has been away from hockey for many years, it just seemed as though it could be a horrible mistake. It seemed like Trevor Linden was the ultimate distraction – away from the fact that the team was getting older, the gap between the Canucks at the Western Conference was widening, and the cupboards were bare of any prospects.
Now, just a short time later, it seems there is hope. Maybe not hope for a lengthy playoff run, but for things that have been missing for just as long: development, hard work, and an exciting brand of hockey. It happened the same way for Linden as a player. The Canucks didn't win President's Trophies or Stanley Cups, but the fans were proud of the team and excited about the brand of hockey the Canucks played.
Linden hasn't been on the job for very long. In his initial press conference, although he seemed green, he was Trevor – honest and approachable. He has conducted meetings with nearly everyone on the Canucks roster and staff. Since firing John Tortorella, he has hired Jim Benning as his General Manager, and Willie Desjardins as the Canucks next head coach.
What we know about Linden's new hires is that he has created his management team in his own image.
Their game isn't about showboating. They're not flashy or sexy (okay except for Trevor), but they have other qualities. They're all sincere and thoughtful. They have the same vision for the Canucks team. They're all known as hard working. They were in demand. And they win. Win at every level. So far so good for Trevor Linden.
Next step is the draft. Keep hope alive.