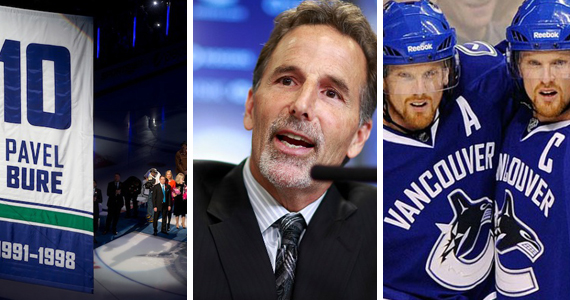 After 20 games, the Canucks are 11-7-2. The team managed to post a 5-1-1 record on a long 7 game eastern road trip, ending with 3 victories in extra time – two wins in overtime and one in a shootout. They went 2-1 on a home stand, and have just finished a tough 1-2-1 California road swing.
The team's 24 points are good enough for 4th in the Pacific Division, and 8th spot in the Western Conference, although the Canucks have played the most games in the entire league at this point in the season. When people say the West is the Best, they're not kidding – the same 24 points would be good for 2nd place in the Eastern Conference.
The Canucks first line has been scoring, and they've got a healthy amount of secondary scoring from many of their bottom 6 forwards and defencemen. At 7-4-1, Luongo posted his best October ever as a Canuck. The team seems to have embraced Tortorella's new systems and has been playing a high energy style of game that is fun to watch. The one thing the Canucks lack at this point is consistency.
In a previous post, I mentioned that if the Canucks can get through October with an even record, it should shape up to be a great season, and reiterate that now. On any given night the Canucks can play inspired and exciting hockey – a pleasant change from the last couple seasons where the team scored and seemed to sit on 1 goal leads.
So far, so good. As the season goes on, the Canucks should improve their play. Some Canucks threads this season include:
Tortorella's high energy style of coaching, translating to Canucks play on ice
Re-signing and resurgence of the Sedin twins
Pavel Bure's jersey retirement
Depth (or lack thereof) at any position
Ice time for top forwards and defencemen
Slow but steady development of Zack Kassian
Where is David Booth this week?
Great penalty killing, horrible power play
Local boy Mike Santorelli having an impact playing for his hometown Canucks
What are some of your early season compliments, gripes or stories this season?