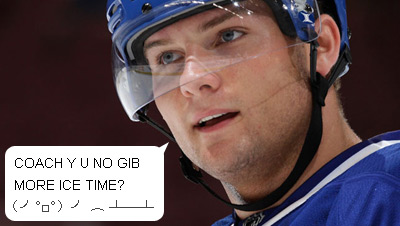 Throughout the season, the Canucks Wagonwatch series will track how much room is on the team's bandwagon. In addition, it will also track the completely separate Luongo wagon.
The Sharks were well rested, as the last time they played was December 28 in a 3-2 OT loss to Vancouver. Meanwhile, the Canucks have played twice since then, winning in Anaheim, and losing in Los Angeles. After the playoff-like atmosphere that last time these clubs met a few days ago, tonight's game was a little disappointing in that regard.
Canucks Bandwagon: 80% full
After the last game versus the Sharks in San Jose, I expected a similar energy level from both clubs, but there were very few stretches of good play from either team. Even though the shot totals were good, it felt like there weren't that many solid scoring chances for the Canucks. The had good secondary scoring from Hansen and Hodgson, but the top 2 lines couldn't beat Niemi tonight.
Luongo Bandwagon: 70% full
Sometimes I am guilty of listening to the Team 1040 post game, which brings all kinds of crazy callers. The first caller after the Kings game immediately called out Luongo, calling him a flopper and a incapable of standing up to make a save. Haters gonna hate, but for better or worse, Luongo is held to a higher standard than the rest of the team. He was pretty good tonight against the Sharks, and made some nice saves – including one lunging from right to left to stop Joe Thornton from 6 feet. He even made two saves in the dreaded shootout, but couldn't stop Handzus with the game on the line. Canucks shooters were 0-for-3 in the shootout tonight, but in Vancouver, people don't blame the shooters for a shootout loss.
#Coho4Calder is Back, and The Honey Badger Keeps Eating
Jannik Hansen maybe shouldn't have scored on that mad scramble, but he was rewarded for his hard work tonight. The first assist on Hansen's goal was from Cody Hodgson. It's no secret that I have a soft spot for Coho, so it was extra sweet to see Hodgson get rewarded tonight with 1G 1A, and even played out the final seconds in OT. We're not so deluded to think that Hodgson has a shot at the Nuge Trophy .. er .. Calder Trophy as the rookie of the year, because he's not that kind of a flashy player, and the Canucks are loaded at Center with Henrik and Kesler eating up the top minutes. If you consider that – then 12-13 minutes isn't bad for a 3rd line center on this team, which could roll all 4 lines successfully on most nights.
I honestly believe that Hodgson will be one of the key pieces of this hockey club in the future – he's lucky to be an understudy to two of the great centers in the game today – Captain Henrik is the soft spoken pure passer, and Kesler is the shutdown guy who wears his heart on his sleeve.  Just because we are massive Cody Hodgson fans, this video should give you something to drool over.