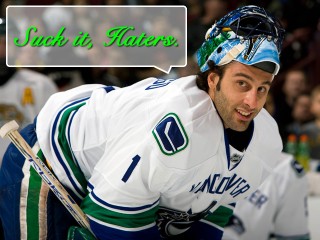 Throughout the season, the Canucks Wagonwatch series will track how much room is on the team's bandwagon. In addition, it will also track the completely separate Luongo wagon.
The Wild played the first half of a back-to-back set tonight, playing in Calgary tomorrow night. The Wild started off with a strong first period, but were down 1-0 after one period after they gave up late goal to the Canucks power play. It wasn't a typical Canucks power play goal, as it came off a rush and was scored by Henrik Sedin. The 2nd period saw the Canucks score 2 more. The Canucks 3rd goal was particularly nice – Sedin to Sedin to Burrows.
Canucks Bandwagon: 85% full
After Saturday's big win in Toronto, I expected the Canucks to come out a little flat – the road trip hangover effect – but was pleasantly surprised to see them put in a good effort. The Sedins were particularly effective – beautiful passing tonight – for 6 points between the twins. John Shorthouse and John Garrett indicated that it would be tough to pick the 3 Stars for the game – Luongo, and the Sedins seemed about right from a statistics point of view, but many other Canucks looked pretty good tonight.
Luongo Bandwagon: 70% full
Luongo was full credit for the win and the shutout tonight – holding his team in the game early in the 1st period, as the Canucks were outshot in the opening frame. After the Canucks scored at the end of the first, the Wild were not able to generate much pressure, or many scoring chances. No such thing as an easy shutout, and Luongo did well to maintain his focus. Maybe the haters will say he looked awkward in the 1st. Or that he shouldn't have looked over his shoulder in the 3rd. Not much to complain about in this one, as Luongo made it look easy. Very good positionally, and very economical movement. Another 3 shutouts in a row, and who knows, maybe the wagon will be at capacity. Or maybe not.
What the Honey Badger wants, the Honey Badger gets
It is more than a mere rumour that the Canucks have animal nicknames for each of their players (reference: Pass It To Bulis). Jannik Hansen is known as the Honey Badger. Tonight the Honey Badger scored his 11th goal of the season; his previous season high was 9 – done twice. Hansen is looking more like a player that can provide some serious secondary scoring, along with speed and good physical play. At this pace he will have between 20 and 30 goals.
Hansen is given the Honey Badger moniker because he plays with a tenacious and fearless style. If you watch this video, and if you've seen Hansen play, you will understand it.