And I'm not talking about the spawning habits of BC salmon.
Although that does make a great metaphor – Coho heads off to the Pacific Ocean, then has to struggle, swimming upstream to return to the place of his birth… Ontario?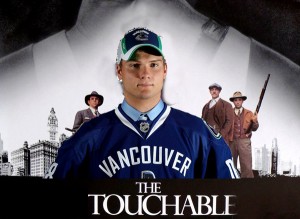 Buffalo is close enough to Toronto, right?
Mike Gillis traded his first draft pick as the General Manager of the Canucks, sending Cody Hodgson to their expansion cousins, the Buffalo Sabres. In return, the Canucks receive Zack Kassian – a former first round pick himself.
It is no secret that this writer loves him some Coho, and I was saddened to hear the news of Hodgson being traded at the deadline today. I'm certain that I will write a future post praising Zack Kassian for his play in the future, but in the meantime, I'd like to take a little time to remember Coho as a Canuck.
Alright, he got off to a rocky start with a misdiagnosed back problem. But once the back problems were behind him (pun intended), he started showing us flashes of his skill last season. And throughout this season, more of the same flashes of skill. I wrote earlier this season:
#Coho4Calder – You heard it here first

It's clear that Cody Hodgson is feeling better after misdiagnosed back problems, and he seems to be going at full speed. He was the First Star at Rogers Arena last night, and was excellent in all phases of the game for a center. I was lucky enough to meet Cody with my kids at Rogers Arena earlier this season, and he seems like a great guy. It's nice to see him take advantage of some real ice time this season, and even nicer to see him enjoying himself out there. Sure, he might not be as sexy of a Calder vote as Ryan Nugent-Hopkins, but the kid has skills. Hodgson happens to play on the Canucks, who are loaded with top end depth, and he wasn't drafted first overall, so he doesn't see as much of the rookie hype as The Nuge. There is no denying that Cody has great hands, and excellent hockey sense. To be continued!
In terms of scoring touch, it seemed that Hodgson was not only blessed with good hands, but with ample amounts of clutch. I'm still working on the scientific formula for clutch, but it seemed to me that Hodgson scored in some big games this season. How about this beauty, in possibly the most anticipated game this season? This goal turned out to be the eventual game winner.
Zack Kassian has some scoring ability, and actually won a Memorial Cup with the Windsor Spitfires in 2010. What Canucks fans will take issue with is his spotty behaviour in the past. In 2010, he was suspended for 20 games for a hit to the head of another junior level player. And after the Memorial Cup win, in June of 2010, Kassian was arrested and charged after being in a bar fight.
Maybe I've lived a bit of a sheltered life, but who in this day and age gets into a bar fight? Is Zack Kassian the next Patrick Kane cabbie joke waiting to happen? Or will he leave it all in the past and live up to his first round pedigree?
I will tell you this much:
Cody Hodgson got 12 minutes of ice time each game, relegated to 3rd and 4th line duty, with 2nd unit power play time. Zack Kassian will probably get 10 minutes of ice each game. Even if he does have some talent left in those heavy hands, I don't think we'll see much of those skills with the ice time that Coach Vigneault gives to rookies.
One more thing.
It is no secret that the Canucks got beat up in the Stanley Cup Finals last season. What was lost in that series with all of the Seidenberg crosschecks to the back, and the Marchand sucker punches (I still don't know how he is able to reach other player's faces), was that the Canucks couldn't score. The vaunted Canucks offence scored 8 times in 7 games. With that type of offensive output, it is surprising that the Canucks made it to Game 7, where they were shut out. In the 3 games that they did win, Luongo pitched 2 shutouts to secure those victories. The Canucks are a bigger team this year than last year. So if the Canucks need to be able to score and weather some physical play, was trading secondary scoring skill for raw toughness a good idea?
Time will tell.