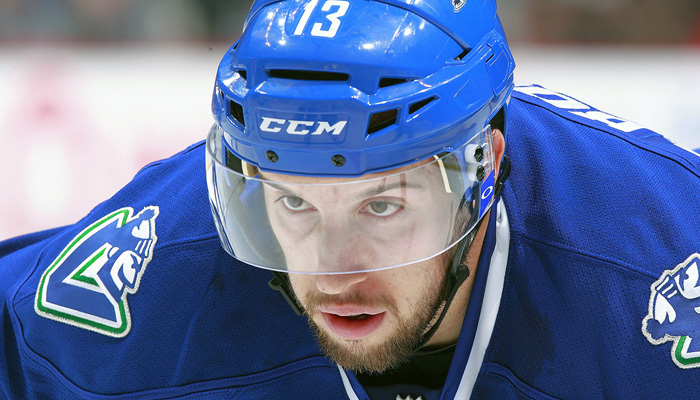 The Canucks are off to one of their best starts in recent memory. After last season's spectacular decline, this version of the team is a refreshing surprise. President Trevor Linden and General Manager Jim Benning have helped to create a team culture in their own hard working image. Head Coach Willie Desjardins has provided a calm sense of confidence, and each of the players seems to have bought in to an uptempo puck posession style that is fun to watch.
Having recently won in Colorado and in San Jose, the Canucks have surprised a few teams already with their resilience, clawing back from a 2-0 deficit against the Avalanche, and being down by a goal twice to the Sharks.
Is it over? Is the goaltending controversy really over?
Any initial reservations I had regarding Ryan Miller's ability have been forgotten. It seems that the days of goaltending controversy are over in Vancouver, as even after Miller was lit up against Dallas, he returned to his regular self the very next game, backstopping the Canucks to a 4-1 victory in St. Louis. He has provided the team with some huge saves already this season, and preserved a number of wins, quietly and confidently. As much as this writer loved Roberto Luongo, the month of October was usually rocky. Miller has been the opposite – very consistent from game to game so far, and far fewer of those seeing-eye, hard luck, how-did-that-go-in goals.
In Edler's Defense… Look at Sbisa
Was Alex Edler ever as bad as he looked for the last 2 seasons? Was he ever as good as he was 4 seasons ago? While the answer is probably somewhere in between, he doesn't have to worry about being That Guy on defence any longer. Sure, Edler still breaks his stick on half of his slapshots, but Vancouver's new scapegoat on defence is Luca Sbisa. Just like Kevin Bieksa, Keith Ballard and Edler before him, Sbisa is the guy with the black cloud over him so far this season. To be fair, he has had both good and bad moments. However, coming here in the Ryan Kesler trade, most people expected more of the big defenceman.
Forwards, March!
Goals this season have come from everywhere in the lineup. Aside from Bo Horvat and Tom Sestito, who have only played 2 games each, every single Canucks forward has scored at least one goal. When Kesler was traded to Anaheim, there were questions about who would step up into the 2C spot. Nick Bonino (who also came to Vancouver in the Kesler deal) has filled in admirably, leading the Canucks in scoring so far with 7 goals. Bonino has found great chemistry with new linemates Alex Burrows and Chris Higgins.
Last season under John Tortorella, the 4th line would be lucky to get 4 or 5 minutes TOI, and the Sedins would play well north of 24 hard minutes on many nights, reaching 25 or 26 minutes a number of times. Desjardins has been trusting in his team and rolling 4 lines every night, with guys like Derek Dorsett playing 10 minutes on average. The Sedins are rejuvenated, playing with a bona fide shooter in Radim Vrbata, while taking less ice time each night. This has the benefit of the Sedins being sharper now, and having more in the tank for later in the season.
Yes, it's still early in the season, but in Vancouver it seems that again hope springs eternal. Let's hope the Canucks are still playing this well in the spring.