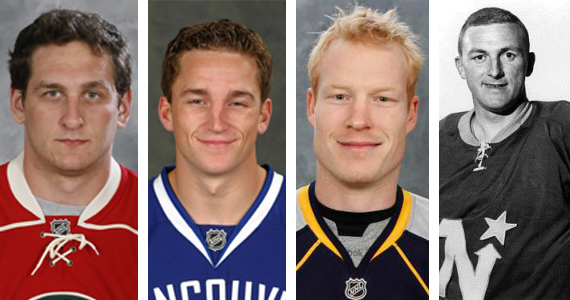 Should old acquaintance be forgot, and never brought to mind ?
Should old acquaintance be forgot, and auld lang syne?
The time between Christmas and the New Year is usually a time of reflection and remembrance. We think back on the events of this year, and of years past.
In the summer of 2011, Derek Boogaard, Rick Rypien and Wade Belak all died. All 3 were enforcers in the NHL. Known more for their skills with their fists than for their goal scoring prowess, all 3 suffered from depression and related substance abuse problems.
The fourth NHL player pictured above is Bill Masterton.
Although most NHL fans know of the Bill Masterton trophy, not many fans know much about his playing career. He was one of the few hockey players to complete a U.S. college degree and play in NHL. Although he was highly educated as an engineer, his skill and love of the game led him to play in the NHL. Masterton was the first player to sign with the expansion Minnesota North Stars, and actually scored the first goal in North Stars franchise history.
Masterton also holds the distinction of being the only NHL player to have died directly as a result of injuries suffered in an NHL game. On January 13th, 1968, Bill took a hard hit. His head hit the ice, and the subsequent head injuries caused bleeding from his nose, ears and mouth. He never regained consciousness and died 30 hours later.
Masterton was not wearing a helmet at the time of the collision, which was common for most players in that era. 11 years later players entering the NHL in the 1979-80 season were mandated to wear helmets. 18 years after that (nearly 30 years after Masterton's death), Craig MacTavish retired, the last player to have played in the NHL without a helmet.
The Code is Dead.
After Boogaard's death in 2011, it was revealed that he suffered from numerous brain injuries, presumably sustained in concussions throughout the many fights in his career.
Concussions in the NHL due to fights and other hits to the head have been happening for decades. The hits, clean or dirty, have robbed us fans of some of the best players in the game: Eric Lindros, Keith Primeau, Paul Kariya, Pat Lafontaine, Adam Deadmarsh, to name a few. Only within the last few years has the NHL truly been serious about getting rid of blindside hits and direct headshots in the game. Time will tell if the suspensions for headshots will make a difference in the play of the game.
Yet repeated headshots and related concussions are doled out nearly every game in fights, which are largely useless and serve no purpose.
I have no idea why fighting is still allowed in the NHL. There it is, I said it. Many players and fans believe that fighting is an integral part of the game. Yes, there was a time when fighting was somehow more useful as a deterrent to dirty hits. That time is over. If fighting still had a legitimate place in the game, how are so many of the players still being lost to injury, headshots or otherwise?
If you want to watch a fight, the UFC has plenty of blood for you. Knock yourself out. I'm sure that the pro-fight fans will have something to say about this. To save you all some time, no, I didn't play in the NHL. I haven't played at a high level. I merely enjoy watching and playing the game.
If it took the NHL nearly 30 years to get all their players wearing helmets, which we can all agree is a good idea, how long will it take before the NHL seriously looks at all aspects of head trauma, including fights?
Happy New Year, hockey fans.
For auld lang syne, my dear, for auld lang syne,
we'll take a cup of kindness yet, for auld lang syne.