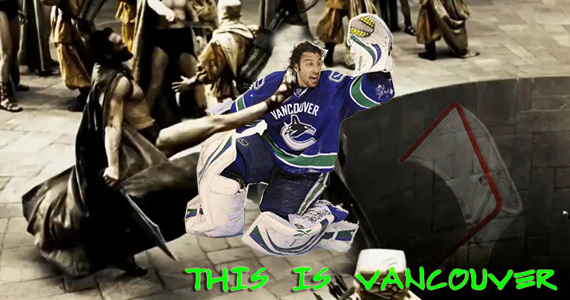 Throughout the season, the Canucks Wagonwatch series will track how much room is on the team's bandwagon. In addition, it will also track the completely separate Luongo wagon.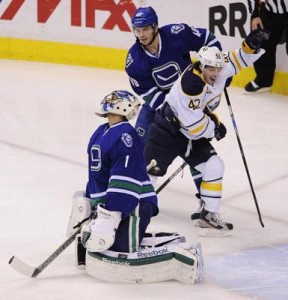 Canucks Bandwagon: 70% full
The Canucks were down 3-0 after the first 5:10 of the game. Despite people making Luongo to be the goat here, the defensive coverage was horrible for this first segment of the game. Rome and Bieksa's coverage smelled fishy, and not in an orca-like way. After the goalie switch, the bleeding stopped on the scoreboard, but it was already too late. The Canucks brought the score to within one with a couple minutes to go, but their expansion cousins from Buffalo scored into an empty net to salt away the victory.
Luongo Bandwagon: 60% full
Luongo allowed 3 goals on 7 shots for a .571 save percentage. He looked bad on the first goal, which fluttered 5-hole. He looked unlucky on the second goal, swatting a puck out directly onto Ville Leino's stick, who was free from Kevin Bieksa's "coverage" (and I use that term loosely – just like Bieksa's coverage). The third goal was a perfect shot, which no one saw until off-ice officials confirmed it was actually a goal, minutes after the play actually occurred. Tough luck night for Luongo, and he was mercifully pulled for Schneider. Normally, when a goalie stinks it up for one night after playing like Superman for 2 months, his popularity wouldn't dwindle too badly. But this is Luongo, and this is Vancouver. Numerous people were actually seen jumping from the Luongo wagon. Thankfully, no one broke their ankles, despite the rush to jump off.
#Coho4Calder #Kassian4Kalder
One of the many sub-plots prior to this game was the return of Cody Hodgson to Vancouver. Since the trade, Hodgson has dodged questions with respect to any trade requests. He hasn't admitted or denied anything. Which as we all know, means he asked for a trade. Maybe not this year, but it happened. #ComeOnNow
In Vancouver, if you request a trade out of town, fans take it as a personal insult (bye bye, Pavel Bure). Fans would take it as a slap in the face if you requested a trade, and you are from Toronto (don't let the door hit your rear on the way out). So Hodgson has been smart not to say anything.
I thought I would like it if Hodgson had a good game, but when Coho swam into the Canucks end, tried to beat 4 of his old teammates and got turned away, I found myself yelling "Get that weak stuff out of here, Cody!". Fans around me agreed, and admittedly, it did not help that the Canucks were down 3-0 at the time. Hodgson finished with 16:52 of ice time on the night, no points and +1 rating. Good luck kid – this writer will miss you. #Truth
Zack Kassian before the game had looked good in a Canucks uniform. I was not expecting much. Kassian had to have some skills, as he played very well for Team Canada in the World Junior tournament, but the Sabres hadn't played him much. He came as advertised – a big kid who wasn't afraid to use his size. I was pleasantly surprised by his hands though. Before Saturday night, Kassian showed off his hitting prowess, and some flashes of offensive skill with some nice looking passes as well.
Saturday night was more of a coming out party for Canucks new rookie. Kassian was 1G 1A with 7 hits in 10:40 of ice time. The goal and the assist were nice, but I was more impressed with his overall play. One play in particular – Kassian was skating into the offensive zone on the right boards, with Kesler behind him, and two Sabres defenders in front of him. Kassian made a simple drop pass for Kesler, and then headed to the net, backing down the Sabres defenders which gave Kesler time and space. It was a simple play, but a play that created space in the offensive zone for a skilled player. Love the game within the game! Did you notice anything about the new Canucks that you were impressed with? Write a comment and let me know.