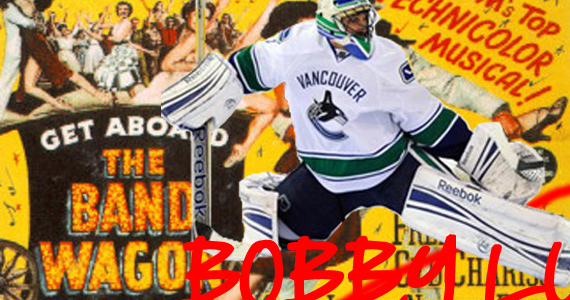 Throughout the season, the Canucks Wagonwatch series will track how much room is on the team's bandwagon. In addition, it will also track the completely separate Luongo wagon.
Canucks Bandwagon: 70% full
The Canucks scored 3 minutes into this game on a great rush from – wait for it – no, not Henrik to Raymond, not Kesler to himself. No, it was Lapierre to Malhotra. Great hesitation before the pass to create a little more room for Malhotra, who ripped it far side, off the post and in. That was the scoring summary. The Canucks stuck to their Mystique-like tendencies, and mimicked the level of their competition. Thankfully, the Kings have an excellent defensive game, so the Canucks did well in their own end tonight. The Canucks seem to have bumped their slump by tightening up defensively in the last few games, and now ride a 3 game winning streak since their loss to Chicago. The goal scoring is lacking, but the defensive effort recently has more than made up for it.
Luongo Bandwagon: 80% full
Luongo did not allow a goal. The haters don't have much to say after this one, as Luongo didn't exactly have an easy night, making 36 saves for the shutout victory. There was one memorable glove stop in the 3rd period as the Kings began their push, and stood his ground in the final 30 seconds when the Kings swarmed with the goalie pulled on the power play. Luongo has regained his mid season form since playing in Chicago. In his last 3 games, Luongo has posted a .963 save percentage, allowing only 4 goals on 109 shots. #Larcenous
Yes, it's true.
How I see the wagon capacity, Luongo is at 80%, while the Canucks are at 70%. The Canucks have found their defensive game recently. They haven't allowed too many odd man rushes, and their overall coverage has been far better. However, their offensive game is still struggling for consistency. It doesn't help that the reigning Art Ross Trophy winner is on the shelf with a concussion, but the Canucks should have enough weapons to score more than 1 or 2 goals.
Once Luongo lets in a goal, the haters will jump right off again. The way Luongo played tonight, that might be awhile though.