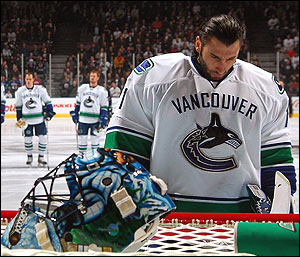 Is there a more polarizing figure in Vancouver sports than Roberto Luongo?
People either vehemently defend him, or scrutinize every goal that gets by him. There is a long list of reasons people love him and hate him. Tonight, the Canucks lost 4-0 to the New York Rangers. And another chapter in Vancouver's love-hate relationship with Luongo is written in 140chars or less on Twitter.
@farhanmohamed: I foresee a night of Luongo-hating comments, as usual. #Canucks
In case you thought tonight's game was pretty bad, the last time the Rangers won in Vancouver, Wayne Gretzky was playing for the Rangers, and Mark Messier wore the captain's "C" for the Canucks. Think about that for a moment. Those were dark days in Canucks history – Trevor Linden was stripped of the C and driven out of town. Goaltenders included names like Kirk McLean, Corey Hirsch, Arturs Irbe, Kevin Weekes, Felix Potvin, and Dan Cloutier.
One characteristic that is common among all of these guys – none were real winners. Don't get me wrong – some of them won some games. However, most of these guys had a habit of letting in a soft goal, usually once per game.
In hockey, the object of the game is to score more goals than your opponent. The team that scores the most goals wins.
@kohmcradu: Remember that one time when the goalie couldn't win the game for the entire team? Defense, anyone? #Canucks

@causticchick: Here we go again with the Luongo hate. He's not the only one on the ice, people. You win by scoring goals. We haven't done that. #Canucks
Despite the basic object of the game, and the Canucks not scoring any goals at all tonight, or 2 games ago in Detroit, people will continue to blame Luongo for the loss.
One of the biggest reasons I love hockey is because it is an ultimate team game. There are rare individuals that can dominate a shift, but when hockey is played as a team – a unit of players with a common goal – that is when hockey is the greatest. The team that plays together has a synergistic effect, and wins games.
In hockey, it is rarely one player that loses a game for a team, and so the performance of a hockey club should be assessed with an eye to the team – not to just one player.
One of the greatest goaltenders in NHL history, Patrick Roy once said, "For goaltenders everything is playing between your ears.   If you can believe it, you can do it.  If you're not confident when you start, it makes a difference."
@DanielKhatkar: I think if this city showed a little support for #1 his mind would be in a completely different place

@AY604: You know how you build confidence in a goalie, you give him the Bronx cheer at home! Good work #Canuck fans!

@korvan: We had one of the best goalies in the league when we got Luongo, now we have a basket case. I wonder what caused that? #Canucks
Even Patrick Roy tells us that confidence is an important characteristic in a goalie. When Luongo was traded to Vancouver, he was lauded as one of Canada's greatest goaltenders. Drafted by the Islanders, traded to the Panthers, he was stuck on horrible teams, but got to play for his country in the World Hockey Championships. Luongo coming to the Canucks was supposed to be a marriage made in Hockey Heaven.
What happened?
In September 2009, the Canucks signed Luongo to a 12-year contract extension worth $64 million. With salary comes expectations.
@TheFalconer: I think the entire team got deked out of their jock straps on that one. But we'll just blame Luongo, it's easier.
Many fans in Vancouver believe that Luongo is one of the highest paid players in the NHL. In fact, he is the 62nd highest paid player in the NHL, in terms of salary cap hit, at $5.3 million. This puts Luongo right behind James Wisniewski and Phil Kessel, and slightly ahead of Corry Perry and Ryan Getzlaf.  He has the 7th highest cap hit this year among goaltenders, just behind Mikka Kiprusoff and Ilya Bryzgalov.
The expectations on Luongo are likely not realistic. No one player will bring about a dynasty of championships, despite what the haters will have you believe. And to win games, the team has to  score goals – this is hockey at it's most basic.
So this brings about the burning question: 
@wilsons618: Why is it everyone loves McLean when he hasn't won us anything, but hates Luongo, who's probably the best goalie that the #Canucks have had?
The answer is somewhere between expectations and results. With McLean (admittedly, my favourite Canucks goaltender of all time), expectations were low. He was a good goaltender, but he was not supposed to carry the Canucks to the Stanley Cup Final. The Canucks in 1993-94 were the 7th seed in the Western Conference. They were underdogs in each of their series, and should not have made it out of the first round. Yet they defeated the Flames, Stars and Leafs on an unlikely run to face the Rangers in the final. The Canucks that year shouldn't have pushed the series to 7 games, but they did against a heavily favoured Rangers team. And they left it all out on the ice, and came within a goalpost of a Stanley Cup.
With Luongo, expectations were high to begin with, and higher every year since. Win games. Sign a long term contract extension. Make the goaltender the captain of the team. Win games by shutout. Take the C away to relieve the pressure. Start him in less games to get him rest. Change the goaltending coach, change his style. Win playoff series. Win more playoff series. Win the Stanley Cup – is there anything else?
Is this a tweet from the future?
@PabloP74: I see a 'Roy' situation in Vancouver where Lu gets hung out to dry then demands a trade only to win Stanley cup with new team! #ProfoundLoss
It's possible. It happened with Roy – widely viewed around the NHL as one of the great goaltenders in the game, he won Stanley Cups, multiple Vezina and Jennings trophies, and even two Conn Smythe trophies, but it still wasn't enough for Montreal fans, who gave him the Bronx cheer in a lopsided 11-1 game during the 1995-96 season.
It was a different situation and in a different era, but Roy demanded a trade and was dealt to the Colorado Avalanche. That very season, Roy helped the Avalanche win their first Stanley Cup.
For all the October Luongo-haters out there – see you back on the wagon in November! And be careful what you wish for!