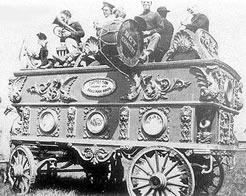 Throughout the season, the Canucks Wagonwatch series will track how much room is on the team's bandwagon. In addition, it will also track the completely separate Luongo wagon.
Canucks Bandwagon: 70% Full
Special teams were surgical tonight. The power play converted 5 out of 6 chances, and the penalty kill was a perfect 5 for 5. The second period has been a big let-down for the Canucks this season, but they outscored the Hawks tonight 4-1 in the middle frame, and sustained a decent pace throughout the game. It was a big win in tough enemy territory, so the wagon has a few more folks on it.
Luongo Bandwagon: 50% Full
The Blackhawks first goal tied the game at 1. It really was a bad goal – Frolik beat him with a long wrist shot from 55 feet out along the boards. Deflected or not, Luongo should have had that one. After the Blackhawks first goal, I'm pretty sure the Luongo haters were calling for Schneider, and the Hawks fans were salivating hoping that Luongo would cave, however, to his credit, he settled down really nicely after that. Luongo made some solid saves when the score was 4-2, and again at the end of the 2nd period to hold a 3-goal lead heading into the intermission. Despite making 38 saves, the first goal prevented fans from climbing back onto the wagon tonight. Solid performance though.
"Familiarity Breeds Comtempt"
Tonight the Canucks posted a 6-2 win over their Western Conference rivals in Chicago. The Canucks might say that they have more contempt for Calgary, and the Hawks number one rival will likely always be the Red Wings, but it's not hard for either team to get up for this game – they've met in the playoffs for the last 3 years running. Each time, the winner has gone to the Stanley Cup Final.
Tonight the Canucks looked like they finally played a game where they had more answers than questions.