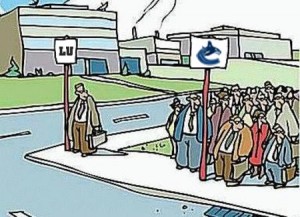 Throughout the season, the Canucks Wagonwatch series will track how much room is on the team's bandwagon. In addition, it will also track the completely separate Luongo wagon.
Tonight the Canucks lost a tough one 4-3 against the Ducks in Anaheim. Down 4-0 to start the 3rd period, the boys staged a nice comeback effort that ultimately fell short by a goal.
Canucks Bandwagon: 70% Full
The Canucks played the night before in Los Angeles, and picked up a 3-2 win. Last night they built a 3-0 lead after one period, and coasted to the 3-2 final. Tonight, they slow-played the first period, and melted down in the 2nd, allowing 4 goals. To their credit (and my surprise!), the Canucks came roaring back in the 3rd, scoring 3 goals of their own, earning a power play chance late in the game, but still lost by a goal. It was an entertaining finish and gave the fans something to cheer for – at least for the fans that hadn't shut off their TV by then.
Luongo Bandwagon: 30% Full
Luongo didn't necessarily play a horrible game, but allowed 4 goals on 19 shots. All 4 goals came in the 2nd period, and Luongo did not return for the 3rd. There is an old hockey adage that says the goaltender needs to be your best penalty killer; unfortunately that wasn't the case tonight. Luongo's wagon might have even less people, but Schneider only had to make 2 saves in the entire 3rd period as the Canucks spent the entire period pouring on the offensive pressure. The Luongo Bandwagon exodus was also tempered by the fact that he picked up a pretty good win the night before.
#Rome4Norris Campaign Suffers Setback
Aaron Rome had made some mistakes earlier in the game, but the team was able to get out of the 1st period still in a scoreless tie. Rome took a 5-minute major for elbowing, which came with a game misconduct in the 2nd period. The Ducks scored twice on the ensuing power play, and the Canucks were forced to play the rest of the game with 5 defencemen. If Rome isn't Shanabanned by the League for that elbow, he'll have to score at least 2 more goals to make up for tonight's game.