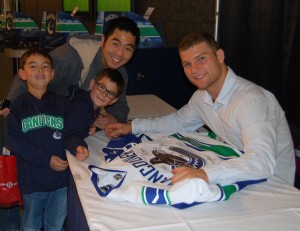 Throughout the season, the Canucks Wagonwatch series will track how much room is on the team's bandwagon. In addition, it will also track the completely separate Luongo wagon.
Sure, it was the Islanders, but on occasion the Canucks have been known to have the roadtrip hangover in their first game back on home ice. Additionally, the Canucks have occasionally overlooked a team like the Islanders, instead putting their focus on the next game (which happens to be against the hated Chicago Blackhawks). Tonight the Canucks were full value for a 4-1 win over the New York Islanders.
Canucks Bandwagon: 80% full
It was refreshing to see the Canucks play a full 60 minutes, and there was no 2nd period let-down tonight. The Canucks jumped out to a 1-0 lead early in the first on a neat backhander from Aaron Rome, and didn't look back. The team set the tone early in each of the period by scoring quick goals to start.
Luongo Bandwagon: 40% full
The Canucks goaltender was excellent tonight, stopping 23 of 24 shots, including all 12 Islander shots in the final period. He made a number of good-looking saves, including one shot off his mask in the 3rd period, moving from left to right. Detractors of Luongo will say he had an easy night, to which I always say: He makes a tough stop look easy, with economy of movement. Roberto Luongo may never remind anyone of Dominek Hasek or Tim Thomas with their insanely acrobatic (read: floppy yet athletic) style, because Luongo's style is all about efficiency. He made a lot of the stops look routine tonight, and also made a number of big saves in the 3rd when the Islanders turned up the heat and applied some pressure on the Canucks.
#Rome4Norris – Back in full effect
Just when you thought Aaron Rome would fade away after a game misconduct 2 days ago, he pulls off a 3 point night, scoring a goal and assisting on two others. The stats line on Rome tonight was pretty good: 1G 2A +2 1PPP. I don't think he'll replace Edler or Salo on the top power play unit, but you never know. Cody Hodgson joked in a post-game interview, "You get the puck to Romer and you go to the net, then you can almost start skating to the bench, because you know it's going in with him."
#Coho4Calder – You heard it here first
It's clear that Cody Hodgson is feeling better after misdiagnosed back problems, and he seems to be going at full speed. He was the First Star at Rogers Arena last night, and was excellent in all phases of the game for a center. I was lucky enough to meet Cody with my kids at Rogers Arena earlier this season, and he seems like a great guy. It's nice to see him take advantage of some real ice time this season, and even nicer to see him enjoying himself out there. Sure, he might not be as sexy of a Calder vote as Ryan Nugent-Hopkins, but the kid has skills. Hodgson happens to play on the Canucks, who are loaded with top end depth, and he wasn't drafted first overall, so he doesn't see as much of the rookie hype as The Nuge. There is no denying that Cody has great hands, and excellent hockey sense. To be continued!