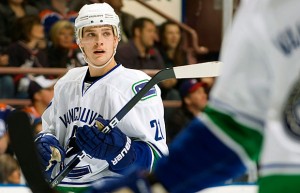 Throughout the season, the Canucks Wagonwatch series will track how much room is on the team's bandwagon. In addition, it will also track the completely separate Luongo wagon.
The Flames were on the second game of a back-to-back set, defeating Edmonton last night. The Flames lit the lamp for a 1-0 lead after one period, but their effort dimmed in the 2nd period, and the Canucks extinguished them from there. The Canucks roared back with five unanswered goals to win 5-1.
Canucks Bandwagon: 80% full
After Friday's disappointing defensive game against the Predators, it was nice to see the Canucks put together a good effort. They gave up only a few good scoring chances. On the offensive side they had a good cycling game and solid forecheck that took advantage of the Flames tired legs. On David Booth's goal, Chris Higgins stole the puck on the corner boards, and Booth took over on a wraparound from there – a testament to both the Canucks work ethic, and the Flames fatigue.
Luongo Bandwagon: 50% full
Let's get it out of the way – the one goal that Luongo let in was a softie – it looked to sneak in between his pad and the post, or deflect off his left pad and in. From there, he was lights out, shutting the door the rest of the way. Luongo stopped 21 of 22 shots and looked pretty solid in his first start since his mysterious "Upper Body Injury But Not a Concussion". The fickle fans of Vancouver might have a problem with the one goal, but can't argue with the win.
Mason Raymond comeback complete
Mason Raymond made his return to the Canucks lineup tonight, playing his first game since Game 6 of the Stanley Cup Final. He looked to be fast out there, contributing an assist on Jannik Hansen's goal, and diving for a Cody Hodgson pass in the slot. I enjoyed watching that line skate – Hodgson's skills with Hansen and Raymond's speed. Hope Raymond can keep it up and get his scoring touch back.