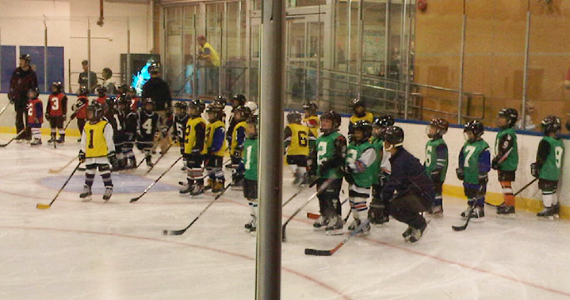 My youngest son Matthew is playing ice hockey this year, like any good Canadian kid. It is awesome watching him skate around out there and having fun! Like Matthew, I'm a rookie too, as this is the first year either of my kids are playing organized ice hockey. I've already learned some lessons that I can pass along to future hockey parents – hope you enjoy the post.
What Level Should My Kid Play In?
Matthew is playing hockey with the Semiahmoo Minor Hockey Association. He turned 6 this year, which puts him at the Hockey 2 level, which is in the Initiation or Tyke age category for Hockey Canada or PCAHA. The Pacific Coast Amateur Hockey Association is the umbrella association for minor hockey clubs like Semiahmoo Minor.
| | | | |
| --- | --- | --- | --- |
| Category | Hockey Canada | PCAHA | Players' Ages |
| Hockey 1 | Initiation | Tyke | primarily 5 year olds |
| Hockey 2 | Initiation | Tyke | 6 year olds |
| Hockey 3 | Novice | Novice | 7 year olds |
| Hockey 4 | Novice | Novice | 8 year olds |
Kids older than 8 years will play in the Atom level and advance from there:
Atom (ages 9-10)
Pee Wee (ages 11–12)
Bantam (ages 13–14)
Midget (ages 15–17)
Juvenile (ages 18–20)
My Kid is Really Good – What About Rep Teams and Junior Hockey?
First of all, everyone's kid is really good. Yes, every single kid is going to the NHL. However, should you really and truly be raising the next future NHL star (like everyone – yes, everyone), elite players will play on travel or "rep" teams which scale up all the way to various junior level leagues, which are for players from 16-20 years of age. The age at which rep teams start varies between associations and provinces. I've seen rep teams begin as early as age 6 or 7. To make the roster of a rep team, tryouts are typically required. Those that don't make it to rep are encouraged to stay in house leagues.
How Much Does It Cost?
Well, that depends. First – how good is your kid? No, seriously. Second – how much money do you have?
Here's a breakdown of payables. For us, Matthew is beginning young, and in a house league, so this is probably the cheapest season of hockey we will ever pay for.
| | |
| --- | --- |
| Registration Fee | $535 |
| Equipment | $200 |
| Tournament Entry Fee | $60 |
| Trophy, Socks, Gift for Coach | $65 |
| Volunteer Fee | $200 |
| Total | $1060 |
We got the cheap starter equipment bag from Canadian Tire, which includes pants, shoulder pads, elbow pads, shinguards and a practice jersey. We got a cheap composite stick from Costco. Matthew's skates are hand-me-downs from his older brother, and he had a helmet that still fits from his old skating lessons. So this is on the very cheap side of the scale, even for a 6 year old player. The Volunteer Fee is interesting – if you choose not to "volunteer" you can pay a fee of $200. All others are "Voluntold" to put in at least 4 hours of work for the association, which usually involves fundraising of some kind.
There is a much broader conversation about the cost of hockey in North America. There have been many articles written about how much minor hockey costs, and how the cost to play is prohibitive.
"We are catering to the kids that are more spoiled in that they come from money – they want this, they want that – and those are the kids that eventually down the line don't make it because they've had everything given to them easy. It's the ones that have to work harder, train harder and don't have the money (who) are hungrier to get (successful) and we're knocking those kids out of the game."
– Peter Zezel, former NHL player. Quote via The Star
The cost to put Matthew in minor hockey, playing with his 6 year old buddies is on the very low end of the spectrum. As the kids get older, registration and equipment can cost more than $10,000 a season, and God forbid you have a kid that's a goalie.
What Do We Get For This Money?
Semiahmoo Minor has hundreds of players registered every year, and the vast majority of people are volunteers. Matthew's team has a Head Coach, two Assistant Coaches, Team Manager, Player Safety person. In addition, there is a power skating coach who specializes in improving the kids' skating skills.
If you've played any hockey, you know how expensive ice time can be, even if you've got a dozen players splitting the cost at midnight. Despite the cost, I thought there was actually decent value for what we've paid – 2 to 3 sessions each week, varying days and times. Ice times are as early as 7AM, as late as 6PM, which is not bad at all. From October to mid-December, it's strictly practices, power skating and scrimmages. Our one tournament is just before Christmas, which is also when games begin against other league teams.
What's Next?
Matthew and myself both love hockey, and we're both competitive. Once he and his brother threatened to cheer for the Blackhawks because they had beaten the Canucks in the playoffs. I then promptly told them to pack a bag if they want to cheer for another team. I'm certain there will be some future posts about Crazy Hockey Parents, which may in fact be introspective. I'm also hoping to write posts about coaching, scheduling and finances.
If you've got any questions, comments or suggestions, please let me know below.