This season my younger son Matthew is playing for the Semiahmoo Minor Hockey Association, the Hockey 2 "Penguins". As there is no NHL season in sight, I will continue to keep blogging hockey, covering the Semiahmoo Penguins.
Hockey Goes On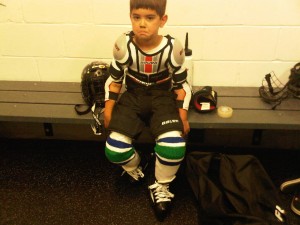 This season's Semiahmoo Penguins features a young line up. Well, that's no revelation since most of last year's crop has moved on to Hockey 3. Those that didn't make it to Hockey 3 have joined their local U8 soccer team, or needed to focus more on their Grade 2 schooling, or just hung up their skates to early retirement. Most of the Penguins skaters are rookies, however, they do have a trio of returning veterans from the Hockey 1 Rangers, all of which are very promising players and can "pretty much skate backwards pretty good".
The Penguins pre-season schedule features practices through October and November, which includes Black versus Colours team-only scrimmages. They will begin to play other league teams in December, and have a tournament just before Christmas.
Penguins Injury Report – Really Flightless Birds
Matthew suffered a mildly sprained wrist when he fell off the jungle gym on the playground. The injury was exacerbated when his older brother hit him on the arm. The velocity on his wrist shot might be negatively affected, but thankfully he can still play the piano. He is considered day-to-day.