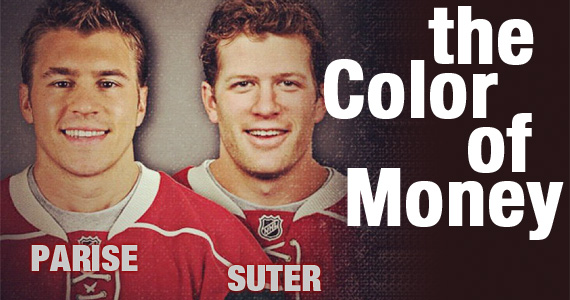 The Colour of Money – it's not Canucks blue and green
Two of the biggest free agents this summer were Zach Parise and Ryan Suter. They signed twin contracts in the Twin Cities with the Minnesota Wild. Both players signed for 98 million over 13 years. Are these guys worth their contracts? Are any players worth this kind of money? Inevitably, comparisons will always be made to other contracts in the NHL. Parise's contract makes sense looking at other big name offensive stars in the league, but Suter's contract is the type of deal that artificially drives up the prices of lesser players. Suter's cap hit is the 2nd highest for an NHL defenceman, only behind Shea Weber, and ahead of big names such as Zdeno Chara, Mike Green, Brent Seabrook, and Duncan Keith. Time will tell if Suter is worth that type of money, without Shea Weber playing next to him.
Rick Nash was traded from the Blue Jackets to the Rangers. Although Columbus GM Scott Howson insists that this was a good deal for the Jackets, it's not. Columbus gets Brandon Dubinsky, Artem Anisimov and Tim Erixon. Dubinsky and Anisimov are two roster players, and Erixon is a young depth defenceman who will get a chance to play in Columbus. Generally speaking, the team that loses the best player loses the trade. In this case, Nash is by far the best player in the deal. Columbus lost their best player, and look to be treading water again. The Rangers on the other hand look great – they still have a great young defence corps, and added a top notch goal scorer to help out up front.
The Canucks did manage to pick up Jason Garrison, for a cap hit of 4.6 million per year, over a 6 year term. Garrison will hopefully fill the holes left by Sami Salo and Aaron Rome. Garrison could be described as a combination of the two – he possesses the heavy shot of Salo, and has the size of Rome. Time will tell if this former Panther is worth his contract, as the jury is decidedly still out on both David Booth and Keith Ballard, also picked up from Florida.
Luongo not yet traded, Schneider signed to 3-year deal
Roberto Luongo is still a great starting goaltender, and his cap hit of 5.3 million is actually 9th among active goalies. Not bad, but it's not the cap hit that teams are shying away from – it's the length of the term, and to an extent, the uncertainty of the upcoming CBA structure.
As if to confirm the Canucks are looking to trade Luongo, they signed former backup Cory Schneider to a 12 million dollar contract over 3 years, at a cap hit of 4 million per year. With Luongo at a cap hit of 5.3 million per year from now until eternity (2021-2022), that means 9.3 million per year is tied up with 2 goaltenders. Mike Gillis doesn't want to be burned with a bad trade (see: Rick Nash), and he has stated that he isn't afraid to start the season with both goalies in the lineup.
Having said all that, Luongo has gone on record saying that he believes it's time to move on. During this interview, Luongo was thoughtful, humorous and candidly retrospective – qualities that were missing too often from his post-game appearances, especially during his tenure as the team's captain.
[soundcloud]http://soundcloud.com/993thefox/the-jeff-oneil-show-vs-roberto[/soundcloud]
What does this all mean?
At this time, the core roster players are mainly the same, including the excellent goaltending tandem of Luongo and Schneider. Arguably, the Canucks have lost a key piece of their defence with Salo leaving, but Garrison fills that spot and adds durability. With the Canucks winning the President's Trophy for the last two seasons, they might be alright heading into this season. Then again, with some of their divisional rivals getting better (the Edmonton Oilers and Minnesota Wild), points will be tougher to gain in the Northwest Division.
Fans should keep the faith. The Canucks always seem to play well when the pressure is on, and with management holding onto vast majority of last season's roster, the pressure has never been greater.