This series of blog posts will look back on the highest highs of last season, and looks to get the Canucks faithful amped for the season to come!
3 days to get back to playing Canucks hockey. 3 days to get back to winning games.
Just a few short days to the season opener, and excitement is building in Vancouver. A lot of Canucks fans are still upset about the Stanley Cup Final loss; I hope that this series of posts has helped to rekindle some positive feeling – there is a lot to look forward to as Canucks fans this season.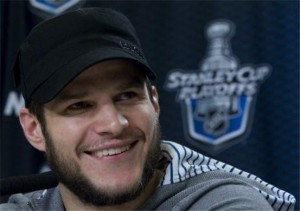 Today's focus is on Kevin Bieksa's crazy season. Bieksa started the season most definitely in the doghouse, but finished as a huge fan favourite.
Early in the 2010-2011 season, many Canucks fans were on the Bieksa hater-wagon. The idea was that the Canucks were "too deep" on defence (is that an oxymoron?), needed cap room, and that one of the defencemen had to go. Bieksa hadn't had a good season in awhile as he had been hampered by a bizarre Achilles' tendon injuries. However, with Salo on the shelf, and Ballard falling out of favour with head coach Alain Vigneault, Bieksa stayed.
Throughout the course of the season, Bieksa played his way back into the hearts of Canucks fans. He was a natural partner for Dan Hamhuis, whose stay-at-home style allowed Bieksa to roam more freely through the neutral zone.
Then there was this interview with Scott Oake in the playoffs. Bieksa is explaining the Canucks simple plan for the 3rd period against the Nashville Predators.
Soon after that, the tribute videos poured in.
The last great Bieksa moment of the Canucks 2010-2011 moment was probably the series winning goal against the San Jose Sharks, to send the Canucks to the Stanley Cup Final.
It's these moments that get me excited for this season. Crazy moments when no one sees the puck, and all of a sudden it's in the back of the net. When the Canucks swarm the opposition zone for 2 or 3 minutes at a time applying pressure so intense that the puck has no choice but to get in the goal.
I can't wait to see what new memories this season will bring!