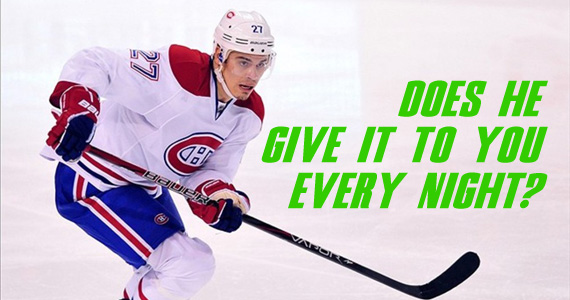 According to Wikipedia:
A double entendre is a figure of speech in which a spoken phrase is devised to be understood in either of two ways. Often the first (more obvious) meaning is straightforward, while the second meaning is less so: often risqué or ironic.
When describing hockey, players use shoot, hit, check, bump, slide, and use sticks of varying lengths. This makes for some often hilarious commentary. I've compiled just a few of the funniest bits I've heard throughout the season. Enjoy, and if you remember any others, write them down in the comments!
The big question regarding Bourque is this:
Does he give it to you every night?
– Brad May re: Bourque/Camalleri Trade
Couldn't get it up, if he had, it would have been in!
– John Shorthouse re: Daniel Sedin shot on Jonathan Quick
Jamie couldn't believe how SMALL it was.
– John Garrett re: Cheech's old style blocker.
Kesler, trying to send it in deeper for Raymond…
– John Shorthouse during Canucks versus Avalanche
Just waiting for the swelling to go down.
– Andi Petrillo on HNIC re: injury status of a player
I like it a little rougher than Ron does.
– Brian Burke re: hockey philosophy and Ron Wilson
Him and Bieksa, they give it to me all the time.
– David Booth on HNIC re: interview jabs
He'll take his time before sliding it gently in…
– John Shorthouse re: Bieksa sending the puck in for a line change.
Semin outwaits Budaj, as he opens up his legs,
slides it through the wickets.
– HNIC describing Alexander Semin, the Russian.
I'm sure a lot of guys could do me.
– Corey Schneider regarding impressions.
Schneider and I been working on those tips, he likes it when
I get right in front there and change the direction.
– Andrew Ebbett re: deflecting the puck