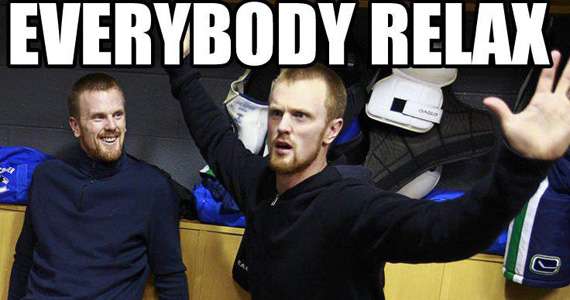 Now that the taste of bitterness of the Canucks first round exit has diminished, and the second round is now underway, it's a good time to look back on the Canucks season.
The Canucks earned their 2nd President's Trophy in a row this season, earning the most points in the league again. Say what you will about a weak Northwest Division, I maintain that it's still a great accomplishment. Look around the NHL – the only truly competitive divisions in terms of playoff calibre teams are the Atlantic, and the Central. If you're the class of the Pacific, Northeast, Southeast or Northwest, you should have a shot at the President's Trophy. So where are those teams in the race?
With respect to the playoffs, every year there are teams that win and lose unexpectedly. The playoffs aren't played on paper, they're played on the ice. Teams rise and fall in cycles – players get hot and cold, teams look good and bad. If you've ever played any competitive sports, you know this. Sometimes you're in the zone, and feel unbeatable. Sometimes it doesn't matter what you do, you can't get it together. If you've watched the Canucks for a long time, this isn't the first time you've suffered, and you know it won't be the last. If you're new to being a Canucks fan, welcome aboard, and hang on tight. There will be ups and downs, but it'll be fun.
Coaching controversy
Alain Vigneault is still the coach of the Vancouver Canucks, and I feel he will be for next season. There is no shortage of opinion on the matter on Twitter, and @korvan made an excellent point just after the Canucks lost their series to the Kings:
If you let go of Vigneault, who's out there that's better?
Vigneault won the Jack Adams Award as the NHL's Coach of the Year in the 2006-07 season. All he's done since then is gone on to coach the team to two President's Trophies and to the Stanley Cup Finals. That's not too shabby. Who is available that can be better than that? Ron Wilson? Marc Crawford? Mike Keenan? Come on now.
Goaltending controversy
We will look back on this time as a golden age of goaltending in this glorious city. For a city with fans that love the backup more than they love the starter (Attaboy Troy!), we may all rue the day that we had to trade Number 1 away. A lot has to happen for Roberto Luongo to be traded away from the Canucks, but this seems to be a foregone conclusion. He has said he will lift his no movement clause if that is what's best for the team, and speculation about where he will go to has run rampant since then. Toronto, Tampa Bay and Florida seem to be the most popular destinations. Other cities in the conversation include Edmonton and Chicago, among others. Personally, I can't see Mike Gillis trading Luongo to a team that could come back to haunt us early in the playoffs, unless the deal is something he can't resist.
Make no mistake: Roberto Luongo is the greatest starting goaltender ever to put on the Canucks uniform. The statistics below don't lie. It's also no coincidence that teams and cities that loved to cut Luongo down are falling all over themselves, in search of a starting goaltender who can take them deep into the playoffs. Yes Vancouver, it's true. Many teams in the NHL believe Luongo can take them deep into the playoffs, even as some of us have doubts.
| | | | | | | | | |
| --- | --- | --- | --- | --- | --- | --- | --- | --- |
| Goaltender | Season | GP | W | L | T | OTL     | GAA     | SV% |
| Roberto Luongo     | 2010-11     | 60     | 38     | 15     | –      | 7 | 2.11 | .928 |
| Kirk McLean | 1991-92 | 65 | 38 | 17 | 9 | – | 2.74 | .901 |
| Richard Brodeur | 1981-82 | 52 | 20 | 18 | 12 | – | 3.35 | .891 |
| Dan Cloutier | 2003-04 | 60 | 33 | 21 | 6 | – | 2.27 | .914 |
| Arturs Irbe | 1997-98 | 41 | 14 | 11 | 6 | – | 2.73 | .907 |
| Corey Hirsch | 1995-96 | 41 | 17 | 14 | 6 | – | 2.93 | .903 |
| Cesare Maniago | 1976-77 | 47 | 17 | 21 | 9 | – | 3.36 | – |
| Félix Potvin | 1999-00 | 34 | 12 | 13 | 7 | – | 2.59 | .906 |
| | | | | | | | | |
| Cory Schneider | 2011-12 | 33 | 20 | 8  | –  | 1  | 1.96  | .937 |
| | | | | | | | | |
I believe Cory Schneider looked good this year. I believe he will be a great goaltender for this team. However, what I believe, and what is factual are different things. Here are the facts:
Schneider is a Restricted Free Agent still in search of a long term deal. If a long term deal can't be made, the Canucks can always make a qualifying offer for him, but risk losing him as an Unrestricted Free Agent next summer if they do so.
Schneider didn't play a starting goaltender's minutes in Vancouver this year.
The glare of the spotlight is much brighter – and much hotter – on the starting goaltender in this city.
Schneider has 1 playoff win to his credit, and 38 career regular season wins.
Hopefully Mike Gillis can get a long term deal done with Schneider, and trade Luongo to a team that won't break our hearts in the playoffs next year.
Playoff Injury Report
It is always interesting to see which players had which injuries once they are out of the playoffs and the Cone of Silence is finally lifted. As it turns out:
Ryan Kesler has problems with a shoulder, as well as nagging post-surgical hip issues. He is looking at a long period of physical rehab and strengthening this summer. Only his abs remain uninjured.
Chris Higgins was suffering from an abdominal strain as he took the sit-up contest with Ryan Kesler a little too far.
Kevin Bieksa has finally admitted his "Maintenance Week" was just a little more serious than "Maintenance Days".
Alexander Edler indeed played with one eye, and only one half of his brain in the first round.
Sami Salo is remarkably uninjured.
Alex Burrows and Max Lapierre were drinking Faderade instead of Gatorade.
Mason Raymond as suspected, has a serious leg length discrepancy, which explains all of the falling.
Roberto Luongo played despite a broken heart.
Nothing wrong with the Sedins – they were pretty good.
Thoughts regarding the early demise of the Canucks
The Quest stands upon the edge of a knife. Stray but a little, and it will fail, to the ruin of all. Yet hope remains while the Company is true.

Galadriel – The Lord of the Rings: The Fellowship of the Ring
There is no question that the Stanley Cup is the most difficult championship to win in pro sports.
There are 8 great teams in the Western Conference that made the playoffs this year. No easy matchups – just ask the Red Wings, Sharks, Blackhawks and Canucks – all out in the first round, joined by the Bruins and Penguins in the east. I have long stated that to go deep in the playoffs, it sure helps to have a hot goaltender. I have to amend that this year – it sure helps to have two hot goaltenders.
Still doesn't work?
To go deep in the playoffs, it sure helps if you have two hot goaltenders, and play a goaltender that isn't hotter, and you can score a few goals.
When the playoffs begin, it is a new season. A chance to clear away the disappointments of the regular season. As the Canucks learned, if you have a slow start in the playoffs, you might as well pack your bags. There's no room for error. If you're lucky enough to make it through one round, you get to do it all over again. And again. And again.
The Canucks have a great team. Two President's Trophies do count for something. Not as much as a Stanley Cup, but .. there's always next year.