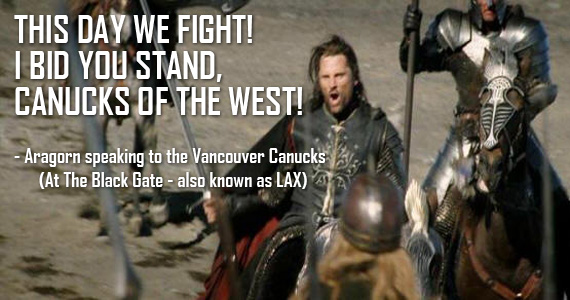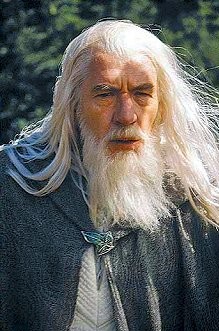 Look to the Canucks coming at first light on the fifth day of the playoffs. At dusk, look to the Staples Center.
After the first two games of the playoffs, it's clear that the Canucks could use a lot of things in their game. Some finish, some momentum, some luck, some special teams work, and yes, maybe a little magic in the form of Wizardous Sedinery.
O Brother, Where Art Thou?
Although Henrik has been alright at holding onto the puck in the first couple games of this series, it's seems he's keeping the puck on his stick because there aren't very many passing options available. The Kings defensive coverage in the series so far has been excellent – strong forecheck, suffocating backcheck in their own zone, nice gap, and #ThatsWhatSheSaid. It seems the Canucks have very little time and space to do anything with the puck, and when they try to move it, the passes have been in the skates and not very sharp at all.
#Beastmode Edler, where are you?!
With apologies to fans of the Lord of the Rings:
Where is the horse known as Edler…
Where is the goal horn that was blowing…
They have passed like rain on the North Shore mountains…
Like wind in the Fraser Valley…
Game days have come down in the West…
Behind the hills into shadow…
How did it come to this? 
Edler has not been himself. He has given up more turnovers than a bakery, and has fewer hits than the Thompson Twins. Playoffs are about getting your game to a higher plane, raising your compete level. Edler has looked downright timid out there. In Game 2, he overskated a puck that wasn't even moving at the corner boards of the defensive zone. I'm not sure if he is nursing an injury, but he does not look comfortable at all out there. Hitting (and being hit) is a big part of his game that has been absent in this series.
Superstition
I don't know about the rest of you, but when the team isn't playing well, I try to change it up at home. Finish the dishes. Fold some laundry. Wash my face. Bake some cookies. Mow the lawn. #NotAEuphemism
After the first two games, the chores are all done, we have more cookies than Mr. Christie, and my face is drying out from having been washed 50 times. I think I do these things just for a distraction from the TV. Am I the only one?